India court denies bail to MP Kanimozhi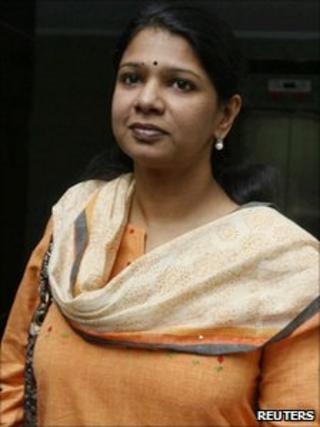 Indian MP Kanimozhi, arrested in May in connection with the country's biggest corruption scandal, has been refused bail by a court in the capital, Delhi.
She denies conspiracy and accepting bribes in the alleged mis-selling of telecoms licences, which auditors say cost the country about $40bn (£24.5bn).
The court also announced that the trial would begin on 11 November.
Ms Kanimozhi, 43, is the daughter of M Karunanidhi, an important ally of the Congress-led federal government.
Former telecoms minister A Raja is also in jail in connection with the scandal.
Mr Raja, a party colleague of Ms Kanimozhi, is accused of selling mobile telephony spectrum to firms at a fraction of their real value in exchange for bribes in 2008. He too denies all wrongdoing.
Refusing bail to Ms Kanimozhi and seven others, the court said the "crime committed was a deliberate offence, an economic offence and very serious in nature".
Prosecutors say Ms Kanimozhi took a bribe of $47.6m (£29.3m) through Kalaignar TV - a channel run by the DMK party in the southern state of Tamil Nadu.
Last month, the federal Central Bureau of Investigation (CBI) charged her on a number of counts, including criminal conspiracy, forgery, accepting bribes and misuse of office.
The issue of corruption has become a major talking point in India.
Mr Raja is on trial along with 16 others, including former civil servants, top company executives and businessmen, who have also been arrested in connection with the so-called 2G case.
The telecoms scandal has badly damaged the reputation of the government, which has been hit by a series of corruption scandals.