Afghanistan and Pakistan agree Rabbani murder probe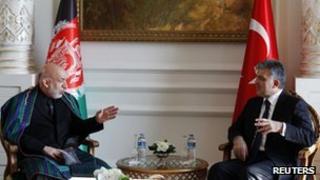 Afghanistan and Pakistan have agreed to jointly investigate the murder of Afghan peace envoy Burhanuddin Rabbani.
The two countries' presidents announced the move after talks in Turkey - their first since Mr Rabbani was killed by a suicide bomber in September.
The murder was blamed on militants based in Pakistan and badly strained relations between Kabul and Islamabad.
The meeting precedes a conference on Afghanistan's future to be attended by representatives from 27 countries.
It is being seen by analysts as an attempt to defuse tensions between the sides before the two-day regional conference.
Relations between Afghanistan and Pakistan have been undermined by allegations that Pakistan supports Afghan militants.
Pakistan has vehemently denied such accusations.
Last month Afghan President Hamid Karzai told the BBC he believed militant sanctuaries in Pakistan needed to be tackled and accused elements of the Pakistani establishment of supporting the insurgency.
His comments came after several outspoken remarks from US officials that Pakistan backed the Haqqani militant network, blamed for a string of attacks against US and Nato interests in Afghanistan.
Afghan investigators also claimed that the killer of former President Rabbani was a Pakistani - Islamabad has denied all charges of involvement in his death.
The talks between Mr Karzai and his Pakistani counterpart Asif Ali Zardari were hosted by the Turkish President, Abdullah Gul.
"We will try to resolve their differences," one anonymous Turkish diplomatic source told the AFP news agency before the talks began.
The Turkish meeting came just days after the deadliest attack yet in Kabul against the Nato mission and after a car bomb targeted a UN building in the southern city in Kandahar.