India: Politician Madhu Koda 'assaulted' in prison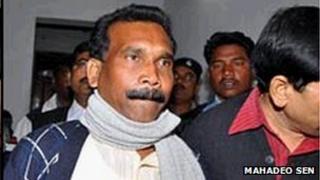 A former chief minister of the eastern Indian state of Jharkhand has been assaulted in a prison where he has been held in connection with a corruption investigation.
Madhu Koda was admitted to hospital in the capital, Ranchi, on Monday.
Police said inmates had beaten up Mr Koda. But Mr Koda said jail staff had assaulted him.
Mr Koda is under investigation for allegedly possessing assets disproportionate with his income.
He denies the charges and says they are politically motivated.
Senior Jharkhand police official KK Soan told reporters that Mr Koda, an independent politician, had been beaten up by inmates after he joined them for a meal at the Birsa Munda prison in Ranchi on Monday.
But Mr Koda told reporters at the hospital that he was "attacked by the jail staff" when he went to "check the quality of food".
Mr Koda, 40, was arrested in 2009 on the instruction of India's Enforcement Directorate which investigates economic crimes, police said.
He is alleged to have laundered millions of dollars during his stints as chief minister of Jharkhand between 2006 and 2008.