Indian baby picked as world's 'seven billionth' person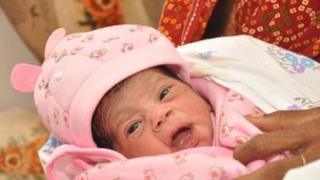 A baby born in India has been declared the world's seven billionth person by child rights group Plan International.
Baby Nargis was born at 07:25 local time (01:55GMT) in Mall village in India's Uttar Pradesh state.
Plan International says Nargis has been chosen symbolically as it is not possible to know where exactly the seven billionth baby is born.
The United Nations estimated that on Monday 31 October, the world's population would reach seven billion.
However, the UN itself has decided not to identify a specific child as the seven billionth person.
The UN Secretary General, Ban Ki-moon, told a news conference marking the occasion that the milestone was not about one newborn baby but about the entire "human family".
He warned of rising public anger in the world's population and a loss of faith in governments and public institutions to do the right thing.
"Our world is one of terrible contradictions," he said.
"Plenty of food but one billion people go hungry. Lavish lifestyles for a few but poverty for too many others."
He said he would take a message to the leaders of the G20 leading economies who are due to meet in Cannes later this week.
"Think about our children, think about the future with vision and foresight."
He said he would call for the world's poor not to be forgotten in a time of economic austerity and for women and young people to be given a proper voice in their future.
In addition to baby Nargis in India, Bangladesh, the Philippines and Cambodia have all identified seven billionth babies.
'Good luck'
Every minute, 51 babies are born in India, 11 of them in the most populous state, Uttar Pradesh.
Nargis was born to Vinita and Ajay Kumar on Monday morning in a small government-run hospital in Mall village, nearly 50km (31 miles) from the state capital, Lucknow, a Plan International official told the BBC.
The daughter of a poor farmer, Nargis was chosen as the seventh billionth baby to focus attention on the ills of female foeticide and India's skewed sex ratio, the organisation said.
Hundreds of thousands of female foetuses are aborted in India every year, even though sex-selective terminations and the use of ultrasound technology for foetal sex-determination are illegal there.
Photos of baby Nargis were shown at a function attended by nearly 250 villagers at the hospital, the BBC's Ram Dutt Tripathi reports from Mall.
Health officials presented the birth certificate to her father at the event.
"We were praying all along for a daughter," Ajay Kumar said. "She is Lakshmi [Hindu goddess of wealth], she will bring us good luck," he said.
A street play staged at the event on the importance of the girl child saw many moist eyes among the audiences, our correspondent says.
The person chosen by the UN as the world's symbolic six billionth person, Adnan Mevic, is now 12 years old.
He was photographed in hospital in 1999 with the then UN Secretary General Kofi Annan.
His family are living in relatively poor conditions in the Bosnian capital, Sarajevo, and have expressed disappointment that since they were visited by Mr Annan, they have heard nothing more from the UN.
It is thought that this could be one reason why the UN has decided not to name a seven billionth child.