How will the Grand Prix change India?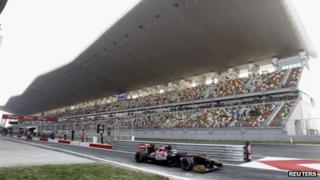 Lady Gaga probably will not have to worry about getting stuck in traffic before her performance to mark India's first-ever Formula 1 Grand Prix.
But it may take more time for fans to travel the 30km (18 miles) from Delhi to the circuit than for the drivers to cover the 300km (186 miles) of the race itself.
The high-octane, high-spending Formula 1 glamour machine is coming to a country of extremes, with both some of the richest and poorest people on earth - and some of its most traffic-clogged roads.
Some fear it will only make those extremes worse.
'Challenge to cricket'
But "India is fevering for this event", enthused one fan as he watched F1 cars roar past on Delhi's famous Rajpath - transformed into a race track for a day to promote the sport.
Several thousand mainly young and clearly wealthier-than-average people turned out for the show - some even claiming F1 could challenge the popularity of cricket.
Few believe that, specially as even the cheapest seats - at 2,500 rupees ($51; £32) - are way beyond the pockets of most Indians.
But organisers say they have been selling well.
Proof, says Vijay Mallya, the billionaire co-owner of India's F1 team, of the growing disposable income of India's "aspirational middle class".
The private Indian company, Jaypee International, has been trumpeting its success in getting the new Buddh International Circuit, as it is known, outside Delhi, ready on time.
'Banishing shame'
When the BBC visited recently, the paint work looked a little rushed and hundreds of people were still hard at work on the grandstands and grounds, fixing seats and laying turf, watched over by baton-wielding security staff.
It has reportedly cost some $400m (£248m), and some doubt it will ever recoup its investment.
But with this season's Formula 1 championship already decided, the race matters more to India as a chance to show it can compete in the economic and sporting big league.
Jaypee chairman Jaiprakash Gaur predicts the Grand Prix will banish "the shameful memories" of the chaos and corruption that marred last year's Commonwealth Games in Delhi.
"The world's perception of India is going to change after the Grand Prix," he promises.
Critics fear it is just another sign of India's wealthy elite getting ever further ahead of the rest.
"This is polo for the new generation," says Ashis Nandy, an academic and social commentator, describing the millions being spent on the Grand Prix race as an "utter waste" and "totally insensitive" - with the majority of Indians living on less than a dollar a day.
Lottery affect
Just outside the circuit, with its computer-designed track, water buffalo pull rickety wooden carts along another kind of track - which has never seen any tarmac.
But Formula 1 has had something of a lottery effect here.
Farmers and landowners whose plots were needed for the circuit received big sums in compensation - some as much as $1m (£621,000).
In the nearby villages, you see the result - shiny new SUVs (sports cars) and large new houses going up, with barefoot boys playing in nearby streets next to open sewers.
Most people here got nothing, so this shower of sudden wealth is causing plenty of resentment.
Saleem, a landless labourer, says: "I wish Formula 1 had never come here."
Now all the local farmers have sold their land, he says, there is no work for him and he can not afford to send his children to school.
With the Formula 1 promotional machine now in top gear, such concerns are being drowned out - with the Indian media counting down excitedly to the race.
"Why does the international media keep focusing on the poor part of India," complains Formula 1 team owner Vijay Mallya.
There is no doubt that a successful Grand Prix will be a boost for India's image and confidence.
But not all the Indian media is feeding the Formula 1 frenzy, with one paper joking that as so often, a cow will show up and disrupt the event.