Afghanistan militant attack on Kandahar compound 'ends'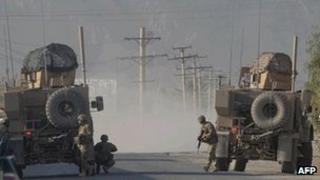 A militant attack on a compound housing Western officials and military personnel in the Afghan city of Kandahar has been repelled, Nato said.
The attack began on Thursday and lasted more than 15 hours, a spokesman said.
The Taliban said they were behind the attack which included rocket-propelled grenades and small arms fire.
Four militants and an Afghan interpreter working for the Nato-led international force were killed, police and Nato said.
Five Nato soldiers, two Afghan security guards and three civilians were wounded in the attack, officials said.
Reports said the Taliban launched an assault from a compound across from the camp on Thursday afternoon local time.
Two car bombs went off as the Afghan police were clearing the compound, but there were no injuries, the Associated Press reported.