Anti-corruption campaigners in India risk their lives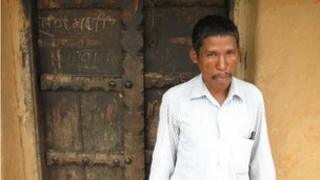 Bhukan Singh is a small, shy figure, with a nervous smile - he does not look like a hero.
But standing in a field near his home, he recalls the day last March when his fight for transparency and justice in the eastern Indian state of Jharkhand nearly resulted in his death.
"In today's India speaking the truth is not easy," Mr Singh, 44, says wistfully, remembering how, on that March day more than 100 people came looking for him.
Mr Singh had been hopeful that a Right to Information Act would clean up corruption by giving people access to government files and to private sector information held by official bodies.
But he is just one of many whistle-blowers in India who have paid a heavy price for exposing corruption.
'So scared'
Working with a friend, Mr Singh used the act to investigate why large sums of government money allocated to social schemes were not reaching the villagers they were meant to help.
They uncovered wide-ranging misappropriation of funds by officials and middlemen.
The consequences of their investigation were terrifying.
"I can't tell you how I lived through that night," he says. "I was so scared. Every moment was like living through hell."
As the mob arrived, he ran to a nearby lentil field and hid until morning. He escaped to the city for safety, leaving his wife and elderly mother behind. His three children have also fled the family home.
Since the mid-1990s, India's civil society has been loudly demanding greater official transparency, in order to curb corruption.
In 2005, the government implemented the Right to Information Act, after sustained pressure from civil society groups.
Recently, the activist Anna Hazare has used hunger strikes as a weapon to press for further action.
In August, Mr Hazare went on hunger strike for 13 days to demand reform. It made a huge impact, with thousands coming out onto the streets to support him.
He has urged the government to set up an independent citizen's ombudsman to investigate and prosecute corrupt officials. He sees existing mechanisms as inadequate or insufficiently independent of government.
The government plans an anti-corruption bill, known as the Lokpal bill, which will create an ombudsman for India. Prime Minister Manmohan Singh has said he hopes the bill will be passed in the next session of parliament.
'Bleeding'
But despite political victories, as the use of the Right to Information Act has increased, so have attacks on people accessing information to bring transparency and accountability to the public sector.
Bhukan Singh was relatively lucky but his friend and fellow campaigner Niyamat Ansari was not.
His wife Nourissa Bibi was at home with their children when the mob arrived. A petite woman in her early 20s, she looks much older than her years.
She breaks down frequently while recounting her story, as her three young children cling to her.
"They surrounded our house, and started banging the door till it began to break. We hid Niyamat. But they found him. We fell on our knees and begged them to leave. They kept saying we won't do him any harm; we just have a few questions.
"After that they took him away. We only saw Niyamat after they had beaten him almost to death. He was bleeding and his arms and legs were broken. We put him on a bed and carried him towards the hospital but he died before we got there."
No prosecutions
District Collector Rahul Purwar is the local administrator responsible for protecting citizens like Mr Singh. Even now, Mr Purwar will not guarantee his safety, saying it is impossible to make such promises about an individual.
Activist Nikhil Dey says this case is just one of dozens of attacks against campaigners, and those are only the ones that got reported.
He is leading efforts to get a stronger government response to protect those seeking information, through a Whistle-blowers' Act, which aims to provide extra security.
The act is currently stalled, which Mr Dey believes shows the lack of political will to protect whistle-blowers.
He hopes parliament will pass the bill when it meets for its winter session in December. But not everyone is in favour of it.
Chief Information Commissioner Satyananda Mishra is responsible for overseeing the functioning of the Right to Information Act. He seems unperturbed by the attacks on whistle-blowers.
He told the BBC the reports have been hyped by the media. He argues that there is no need to have another law to ensure people's safety, which is already protected by their basic right to life.
He believes the government has no reason to single out whistle-blowers for special protection, and says whistle-blowers are responsible for their own safety and need to inform police of any threats against them.
In fact Niyamat Ansari and Bhukan Singh did inform the police about explicit threats against them but nothing was done to save them from the mob.
Mr Ansari's alleged killers are yet to be prosecuted. The government promised to find his widow a paid job so she can care for her three orphaned children.
The promises have so far proved empty. Such is her poverty that Nourissa Bibi says she and her children now regularly go without food.
Crossing Continents is on BBC Radio 4 on Thursday 17 November at 11:00 GMT. Listen again via the Radio 4 website.