Cash machines for gold and silver launched in India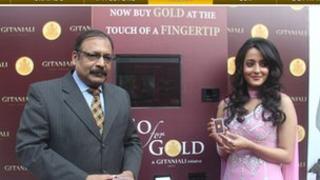 An Indian company has launched what it says is the world's first cash machine to dispense diamonds as well as gold and silver coins.
Backers say the automated teller machines (ATMs) will be a "one-stop shop for buying medallions, coins and jewellery".
They hope to cash in on the insatiable demand of Indians for jewels and precious metals.
In all, 75 ATMs are planned for retail centres, temples and airports.
"This machine... will revolutionise the processes by which precious metals and jewellery are bought," said Sanjeev Agarwal, the chief executive of the Gitanjali group.
"It has a particular significance in India, where usually such items are purchased as tokens to observe traditions on auspicious days."
Mr Agarwal says that the first such machine is already operating in central Mumbai (Bombay) and had served "a substantial number of customers".
He said that all the ATMs - which are 2.1m (7ft) tall - would be placed in secure locations.
The machine offers nearly 40 products, ranging from 10-gram gold coins etched with an image of the Hindu goddess of wealth to diamond-studded pendants. Prices range from $20 (£12) to $610 (£380).
India is the world's largest consumer of gold, according to the World Gold Council, with more than 900 tonnes of the metal changing hands last year.
The Gitanjali group claims to be the world's biggest integrated manufacturer of branded jewellery, from sourcing diamonds and other precious stones to retailing products through a network of over 3,600 points of sale.