India Calcutta hospital is accused over infant deaths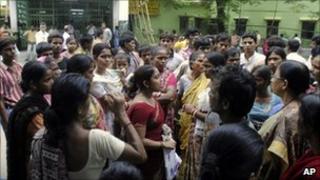 Some of the parents of 12 children who died over the last two days in a hospital in the Indian city of Calcutta have accused it of negligence.
The deaths of the children follows 25 similar "crib deaths" in June.
Staff at the BC Roy hospital have strongly denied the negligence allegations. They say that the infants were admitted in a critical condition.
But correspondents say that the hospital is overcrowded, with many patients having to sleep on the floor.
Six babies each died on Tuesday and Wednesday, BC Roy Hospital for Children Superintendent Dilip Kumar Pal told the BBC.
"We are always trying to improve service and treatment but some deaths are taking place since the babies were brought here at a critical stage," he said.
People claiming to be family members of at least one of the dead infants held a demonstration on Wednesday outside the hospital, the Press Trust of India news agency reported.
But hospital staff say that that the protesters were outsiders "not known to the affected family" who "tried to foment trouble in the hospital premises".
The government of West Bengal ordered an investigation into infant deaths at the hospital in June after some parents alleged that their babies had died because of negligence.
The hospital authorities also denied negligence charges at that time.
They say so many children die at the hospital because many are late admissions brought to Calcutta from distant areas after local doctors fail to help them.
Correspondents say that the hospital is notoriously overcrowded - even infants and young children are forced to sleep on the floor because of the lack of beds.
At least 30 children died at the hospital in similar circumstances in 2002.
In a visit to the hospital in July, West Bengal Chief Minister Mamata Banerjee said that severely underweight babies - many suffering from malnutrition - were often brought there for treatment from remote rural areas.
"These infants had a slim chance of survival," she said.
"The equipment here is up to the mark. But the patient load is understandably high since there are no other child care hospitals in the vicinity of Calcutta.
"Beds are being shared by babies and mothers, which is dangerous. This could lead to infants getting infected. We shall set up a new children's hospital in the city," she said.
The chief minister said that the "alarming" infant mortality rate in West Bengal - 40,000 infants die there every year - was higher than in other Indian states.