Pakistan police sacked over Russians killed near Quetta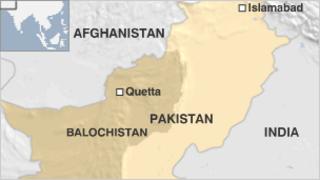 The government in Pakistan has sacked two policemen after a court said they were involved in the 17 May killing of five Russian nationals.
But no case of murder has yet been registered against the two, making it uncertain whether they will be prosecuted, officials say.
The Russians, including three women, were gunned down by the police and paramilitary soldiers near Quetta.
Police claimed that the Russians had attacked a security checkpoint.
But the group were later found to be unarmed, and one of the women was seven months pregnant.
The court inquiry held the security forces responsible for using "excessive force" against unarmed civilians, saying the action amounted to extrajudicial killings.
The services of another police officer named in the inquiry have been suspended, while an army officer awaits a final decision from a military inquiry for his role in the case.
The court also recommended that action be taken by the federal government against the suspended Quetta city police chief, Daud Junejo.
Provincial governments in Pakistan have jurisdiction over police station-level staff but all top police officials are employees of the federal government.
The BBC's M Ilyas Khan in Islamabad says that all four officials can appeal to the High Court against against any dismissals handed down to them.
But they can only be prosecuted for extra-judicial killings if either the state or any aggrieved party file a proper court case against them.