Afghan fuel tanker 'magnetised bomb' kills 12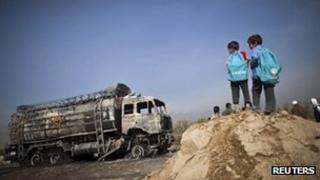 At least 12 people have been killed and 33 injured in a fuel tanker explosion in northern Afghanistan, officials say.
About 60-70 people arrived to steal fuel leaking from the tanker after a magnetised bomb blew a hole in it, a spokesman for Parwan province said.
The tanker then burst into flames in a second explosion.
Parwan province Governor, Basir Salangi, said it was a "terrorist attack" and the aim had been to blow up the tanker at Bagram air base.
The vehicle was only a few kilometres from the airfield when the blast occurred on Tuesday at around 19:30 (15:30 GMT).
Bagram is the largest base for American forces in Afghanistan.
Governor Salangi told the BBC: "It was a magnetised bomb attached to the tanker."
The deaths and injuries were caused by "a huge explosion followed by intense fire," he said.
A local farmer, Ajmal, told Reuters news agency "I heard a small explosion and when I went outside, I saw a tanker was leaking fuel."
"A few minutes later people came with buckets and jugs to collect fuel, when suddenly everywhere was on fire, " he said.
Several nearby cars and motorbikes were also set ablaze.
Health officials say the number of people killed could rise, as most of the injured are in a critical condition.
There was no immediate claim of responsibility for the bombing.
Most Taliban attack aimed at Nato forces have taken place in southern and eastern Afghanistan.
However, similar tactics have reportedly been used in the past to try to attack the Bagram air base, but were thwarted by the Afghan security forces.
On Sunday the Afghan Interior Minister, Bismullah Khan, escaped an attack on his convoy in Parwan province by a suicide bomber.
He had decided at the last minute not to travel in the convoy.