India cabinet approves manufacturing push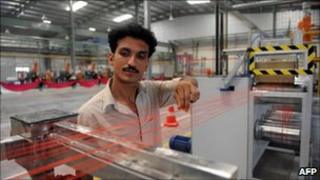 India's cabinet has approved a major new policy to develop national manufacturing.
The policy aims to create a 100 million jobs in the next 10 years and allows for a series of special new zones to support manufacturing growth.
At the moment, that sector only accounts for about 16% of the country's gross domestic product.
That has barely changed in the last three decades and is seen as well below India's potential.
It is also far lower than other Asian countries at a similar level of development.
India has done an impressive job in developing hi-tech and service sector industries - which have given new opportunities to its well-educated middle class.
But that is little comfort to a growing number of rural unemployed who have at best a basic education and few opportunities for work beyond agriculture.
Now India is trying to learn from China - with an ambitious plan which aims to boost manufacturing and deliver factory jobs.
Cutting red tape
The target is for manufacturing to account for a quarter of GDP by 2022 - creating 100 million new jobs.
The government also plans to train the young rural generation so they can take advantage of these jobs.
Special economic zones will be set up - again, following China's model. Seven sites have already been identified.
Their development will be led by the private sector. They are described as self-governing townships.
Companies using the sites will be offered tax incentives.
One of the obstacles for manufacturers in the past has been endless government bureaucracy and red tape. This too will be streamlined.
There is no doubt that India desperately needs a more vibrant manufacturing sector to even out its growth and absorb future workers.
The test will be how successfully this plan translates from paper to the real world.