Pakistan judge Pervez Ali Shah 'flees death threats'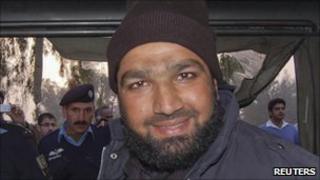 A Pakistani judge who convicted a Muslim extremist of murder has fled to Saudi Arabia after getting death threats, his colleagues say.
Pervez Ali Shah gave the death sentence to Malik Mumtaz Hussein Qadri for killing Punjab Governor Salman Taseer.
Qadri said he believed Mr Taseer was undermining blasphemy laws, which may lead to execution for people convicted of insulting the Prophet Muhammad.
The Lahore High Court later denied Judge Shah had fled.
A court spokesman said that he had taken temporary leave in order to go on a pilgrimage.
"He remains presiding officer of the child protection court. He left with proper permission from the court," the spokesman told AFP news agency.
But Saiful Malook, who prosecuted the Qadri case, said the government had sent Judge Shah abroad.
"The death threats have forced Shah to leave Pakistan along with his family for Saudi Arabia," Mr Malook told local media.
Qadri, who was one of a team of police bodyguards assigned to protect Mr Taseer, shot him 27 times in the back in January.
Qadri said he was proud of what he had done - and many Pakistanis staged large protests in his support.
Mr Taseer had called for debate about the blasphemy law, which human rights groups have condemned as unjust.
He also came out in support of a Christian mother of five, Asia Bibi, who had been sentenced to death for insulting the Prophet Muhammad.
The assassination divided Pakistan, with many hailing Qadri as a hero.
The BBC's Aleem Maqbool in Islamabad says that it is a case that continues to cause emotions to run high in Pakistan.
Our correspondent says that his fate will serve as a warning to other judges willing to take on the tough task of tackling extremism in Pakistan.
Correspondents say Mr Taseer's killing and other high-profile murders and abductions of moderates have temporarily stifled the debate over the blasphemy laws.
Pakistan's government has said it has no intention of amending the legislation.