Sakshi's story: "My parents named me 'unwanted'"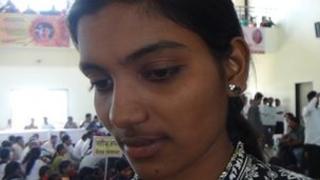 More than 200 Indian girls whose names meant "unwanted" in Marathi were given a fresh start at a mass renaming ceremony in Maharashtra state over the weekend. BBC Hindi's Zubair Ahmed met one of the girls with a brand new name.
My new name is Sakshi, which means a "witness". I am 16 years old and I have just been named.
All my life I was known as Nakusha - the Marathi word for unwanted.
I understand why my parents did not want me. They had three girls before me. I was the fourth girl to be born to my parents. Everyone here wants sons.
They named me Nakusha believing this will end their bad luck and stop the birth of more girls. But two more girls were born after me.
The renaming ceremony [held in Satara district on Saturday] has been the most important event in my life and as I am a witness to it, I have picked up this name to mark this special occasion.
I always wondered why I was nameless. At times I felt terrible.
But this spurred me on to prove myself and I worked hard to make a mark in studies and sports. And it worked.
Although my parents continued to call me Nakusha, they began to treat me like my other five sisters. So, not having a proper name didn't really matter anymore.
Yet I wondered why my family did not give me a proper name. I brought this up several times with my parents, but they ignored my queries.
But I was never angry or upset with my parents. I understood why I was "unwanted" at the time of my birth.
Having lots of girls in a family in India is a big problem for parents.
My parents have six of us and arranging our weddings will make them bankrupt. They will have to pay fat dowries for us.
I was very happy when I heard that the local administration had launched this scheme of naming nameless girls.
My school friends helped me choose my new name and I love it.
We considered Namrata and Neha, but I loved Sakshi. It was symbolic too, since I was going to be a witness to a historic occasion and become part of it too.
Now I will tell my family my new name and urge them to call me Sakshi.
I told them that I was attending the ceremony and obtained their permission to change my name. They readily agreed. Maybe they have realised that they were wrong in calling me Nakusha.
I know I have to be patient, because people are used to calling me Nakusha. It will take a while for them to get used to calling me by my new name.
But now I have a name and I feel good. I feel like a new person. I feel confident. It will change my life forever.
Earlier I struggled to give myself an identity. My identity was attached to my family's. Now I feel that I have my own identity.
A proper name means a lot to me. I am in school now, soon I will go to college. And that will be the start of a new life.
Everyone in college will know me by my new name. No-one will know I was once Nakusha. I am excited about my future.