Afghan interior minister escapes assassination attempt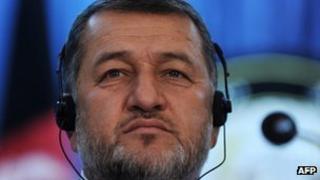 Afghanistan's interior minister escaped an assassination attempt after a would-be suicide bomber targeted his convoy north of the capital Kabul.
Bismullah Khan had decided at the last minute not to travel in the convoy, an interior ministry spokesman said.
The bomber approached the convoy which had parked up in Parwan province, but was shot dead before he could detonate his explosives, reports say.
There have been several high-profile assassinations in the past year.
They include President Hamid Karzai's powerful half-brother, his peace envoy, the police commander for northern Afghanistan and the governor of Kunduz province.
Earlier reports suggested Bismullah Khan had been in the convoy which had stopped on the road between Sayed Khail and Gulbahar districts to pray.
The Governor of Parwan province, Abdul Basir Salangi, told the AFP news agency that the suicide attacker emerged from his hiding place under a nearby bridge and approached the convoy.
"The bodyguards saw him and shot him. He had a suicide vest on, but the explosives didn't explode," he said.
Interior Ministry spokesman Sediq Sediqqi told Reuters news agency that the minister had been planning to travel in the convoy, but changed his plans at the last minute for unknown reasons and sent a deputy in his usual vehicle.