India: Darjeeling bridge collapse kills 32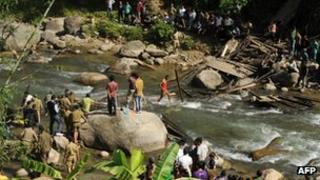 At least 32 people have died and 132 injured after a bridge collapsed at a political event in India's tea-producing region of Darjeeling.
More than 150 villagers were standing on the bridge for talks by local separatist leaders on Saturday night when it collapsed.
Officials say the victims fell at least 70ft (21m) into the fast-flowing Rangeet Khola river.
The army, fire brigade and police helped residents in the rescue effort.
Up to 60 people were rescued on Saturday night, but the search on Sunday was mainly focused on areas down river, reports say.
Government help
People had gathered in the village of Bijonbari, 30km (20miles) from Darjeeling, to listen to speeches by leaders of the Gorkha Janmukti Morcha (GJM) party.
The GJM is fighting for a separate state for the tea-producing Darjeeling hills.
"A cultural programme was being held on one side of the bridge, while a meeting was being held on the other," GJM General Secretary Roshan Giri said.
"Too many people were standing on it when it collapsed and they fell into the river below."
Darjeeling District Magistrate Soumitra Mohan said on Sunday that the death toll had reached 32, with 132 wounded.
At least six children are among the casualties.
West Bengal Chief Minister Mamata Banerjee said her government would do "everything it can" to help the victims and their families.
The bridge was reportedly built in 1942, and is thought to have been weakened by a magnitude 6.9 earthquake that shook north-eastern India, Nepal and Tibet in September.