India: Land to be returned to farmers in Uttar Pradesh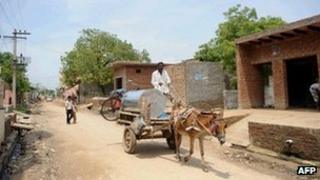 A court in India's Uttar Pradesh state has directed the government to return land it had acquired from farmers.
The Allahabad court ruled that land in three villages be returned to farmers.
Farmers from 64 villages in Noida, Greater Noida and Noida Extension had challenged the acquisition of 7,413 acres (3,000 hectares) of their land.
Land for industry and housing is a burning issue as India tries to balance a growing economy with the interests of the poor.
There have been angry protests by farmers in Noida and Greater Noida against the acquisition of their land by the government for infrastructure purposes and then reselling some of it to real estate developers.
On Friday, the high court in Allahabad directed the government to return to farmers the land it had acquired in Shaberi, Devla and Asadullapur villages.
The court also ruled that farmers would be returned 10% of the land on which construction work had happened in other affected villages. They would be also offered increased compensation.
A BBC correspondent in Delhi says the ruling is a setback for the state government and has caused concern among real estate companies and home buyers.
Some of the land has already been developed by builders and construction work has been going on at several multi-storey complexes.
In June, the state government unveiled a new policy which, it said, would make it easier and more profitable for farmers to sell land.
Chief minister Mayawati said it would ensure a seller's market for farmland. It would also smooth the way for land to be developed for infrastructure.
Opposition parties, however, say the new plan is a "big fraud" and an attempt to misguide farmers agitating for a better deal for their land.