Bangladesh police in 'huge' fake currency haul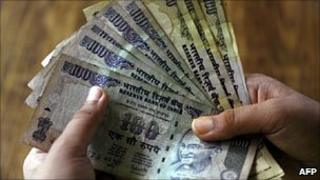 Police in Bangladesh have seized 4.8m Indian rupees ($97,600; £61,800) in fake currency from a Pakistani woman at Dhaka's main airport, officials say.
Police say the haul is one of the largest amounts of counterfeit currency ever to be recovered in the country.
The woman's luggage was stuffed with fake notes, according to officials
They say the Pakistani national is suspected of planning to sell the notes to Bangladeshis intending to travel to India for medical treatment.
Police say that they arrested the woman - who flew into the country from Abu Dhabi - following a tip-off.