Clinton warns Taliban of 'continuing assault'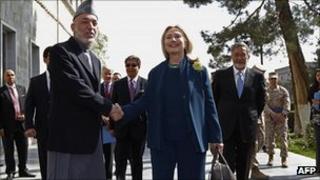 US Secretary of State Hillary Clinton has urged the Taliban to be part of a peaceful future in Afghanistan or "face continuing assault".
She also kept up the pressure on Pakistan to deny militants sanctuary in tribal areas near the Afghan border.
Mrs Clinton was speaking in Kabul after talks with Afghan President Hamid Karzai. She is due to travel on to Pakistan.
Relations between the US, Afghanistan and Pakistan are currently strained.
Mr Karzai has expressed frustration at the process to engage the Taliban after the assassinations of several key Afghan leaders.
"We are increasing the pressure on the Taliban," Mrs Clinton said.
She added that militants could be part of a peaceful future for Afghanistan or "face continuing assault".
Mrs Clinton called for a new partnership between the US, Afghanistan and Pakistan to fight insurgents.
She said Pakistan "must be part of the solution" .
"That means ridding their own country of terrorists who kill their own people and who cross the border to kill people in Afghanistan," Mrs Clinton said.
The US secretary of state is due in Islamabad later on Thursday where she will be joined by CIA chief David Petraeus and Chairman of the Joint Chiefs of Staff Gen Martin Dempsey.
'Reconciliation is possible'
"We intend to push Pakistan very hard," Mrs Clinton said.
"We will be looking to the Pakistanis to take the lead because the terrorists operating outside of Pakistan pose a threat to the Pakistanis as well as to others.
"Our message is very clear: We are going to be fighting, we are going to be talking and we are going to be building... and they [militants] can either be helping or hindering but we are not going to stop."
She added: "Insurgents must renounce violence, abandon al-Qaeda and abide by the laws and constitution of Afghanistan, including its protections for women and minorities.
"Reconciliation is possible - indeed, it represents the best hope for Afghanistan and the region."
US officials say Mrs Clinton also wants to convince Afghans that Washington is committed to a long-term relationship with their country.
The US is planning to withdraw troops and hand over security to the Afghans by 2014.
Mrs Clinton arrived in Kabul on her unannounced visit late on Wednesday.
US officials said she wanted to show support for Mr Karzai following the assassination of Burhanuddin Rabbani.
Mr Rabbani was a former Afghan president tasked with trying to reconcile the Taliban with Mr Karzai's US-backed government. He was killed last month by a suicide bomber posing as a Taliban envoy.
After his assassination, Mr Karzai discontinued attempts to negotiate with the Taliban, saying the process should be led by the country backing them - a reference to Pakistan, which he blames for much of the violence.
Mrs Clinton met civic leaders at the US embassy in Kabul before her scheduled meeting with President Karzai.
She assured women's rights activists, education officials and politicians that their concerns were "being heard at the highest levels of the US government".
"I am here to have a reality check," she said.
"I want to hear what people in Afghanistan are thinking about the way forward."
Mrs Clinton also met Mr Rabbani's son, Salahuddin, telling him that his father "was a brave man and trying to do the right thing".
Salahuddin Rabbani replied: "We will make sure we continue his vision."
As well as assassinations, militants have carried out a number of brazen assaults on major cities and military targets in recent months.
The Haqqani network of the Taliban, based in Pakistan, has been blamed for many of the attacks.
US officials have suggested the Haqqanis are linked to Pakistan's intelligence services, a charge Pakistan denies.