Pakistan warns US over unilateral military action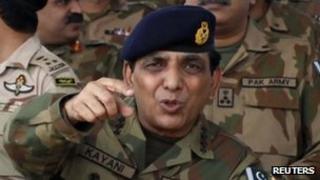 Pakistan's army chief Ashfaq Kayani has warned the US that it will have to think "10 times" before taking any unilateral action in North Waziristan.
He said that the US should focus on stabilising Afghanistan instead of pushing Pakistan to attack militant groups in the crucial border region.
Washington has for many years urged Islamabad to deal with militants in the area, especially the Haqqani network.
It has been blamed for a series of recent attacks in Afghanistan.
"If someone convinced me that all problems will be solved by taking action in North Waziristan, I'd do it tomorrow," a parliamentarian who attended a briefing given by Gen Kayani quoted him as saying.
"If we need to take action, we will do it on our schedule and according to our capacity."
Gen Kayani told the closed-door parliamentary defence committee meeting in Rawalpindi that any withdrawal of American assistance would not affect Pakistan's defence capabilities.
'Very focused'
The Haqqani network - believed to be linked to the Taliban and al-Qaeda - is accused of carrying out last month's 19-hour siege of the US embassy in Kabul.
Some reports say that during the briefing Gen Kayani defended Pakistani contacts with the group as "useful" for intelligence gathering.
The verbal and military fight waged by the US against the network has intensified in recent months and is the main cause of tension between the US-led coalition in Afghanistan and Pakistan.
US national security adviser Thomas E Donilon is reported to have told Gen Kayani at a secret meeting in Saudi Arabia earlier this month that Pakistan must either kill the Haqqani leadership, help the US to kill them or persuade them to join a peaceful, democratic Afghan government.
In September outgoing Joint Chiefs of Staff Chairman Adm Mike Mullen called the Haqqanis a "veritable arm" of the Pakistani intelligence agency, accusing it of directly supporting the militants who had mounted the attack on the US embassy.
But Pakistan has been reluctant to give in to US pressure on the issue. Last month Prime Minister Yousuf Raza Gilani said that his country "will not bow to US pressure" on fighting militancy.
A senior official in Afghanistan said on Tuesday that the coalition was "very focused" now on the Haqqani network.
He said that the Haqqani network operates mainly in Khost, Paktia and Paktika provinces, but there has been a significant increase in its activities in Wardak and Logar provinces.
Afghan and Nato officials argue that Pakistan's reluctance to confront the Haqqani network has forced them to increase missile strikes against them in their safe haven of North Waziristan.
For months, the US has been targeting militants, including members of the Haqqani group, in Pakistan's tribal areas near the Afghan border - some in the US Congress are now calling for it to go beyond drone strikes.
Pakistan's military was deeply angered and humiliated when US commandos killed al-Qaeda leader Osama Bin Laden in a secret raid on Pakistani soil in May.
While Pakistan has long denied supporting the Haqqani group, BBC correspondents say it has a decades-old policy of pursuing foreign policy objectives through alliances with militants.