Six dead in Nepal military rescue plane crash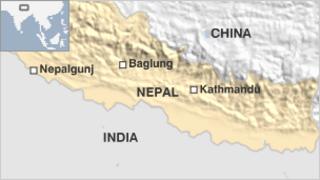 A military aircraft with six people on board which went missing in Nepal has been found to have crashed, killing all six people on board, officials say.
The plane was returning to Kathmandu carrying a medical team from a rescue mission in western Nepalgunj town when it lost contact with officials.
Rescuers said that some of the bodies were badly mutilated.
Plane crashes are fairly common in mountainous Nepal. Last month 19 people died in a crash near Mount Everest.
In another crash last December, all 22 people travelling in a small passenger plane were killed east of Kathmandu.
An army spokesman said that the Britten-Norman Islander plane involved in Tuesday's accident lost communication while flying over a national park in Baglung district.
The plane was carrying a patient along with a doctor, a nurse and a relative of the sick person. There were two crew members on board.
"The plane has scattered into pieces in a dense forest in a gorge-like area in the remote hill," senior police official Uma Prasad Chaturbedi told the AFP news agency.
"This morning [Wednesday], the rescuers retrieved four bodies. Three of them have been badly damaged, hence it is hard to identify their gender."
Nepal army spokesman Rabindra Chetri told the Associated Press that the wreckage was located in an area which was difficult to reach because of the terrain and inclement weather.