Bangladesh ship breaking workers die after inhaling gas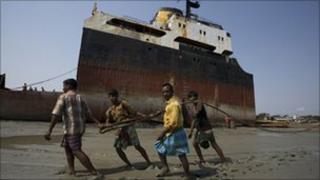 Four Bangladeshi workers have died and two others are ill after inhaling toxic gas while dismantling a vessel at a ship breaking yard, police say.
The workers were inside a scrapped vessel at a yard in the Chittagong region on Sunday evening.
Their deaths come just days after two other labourers were killed in a similar incident at another yard.
Environmentalists say Bangladesh has become a dumping ground for ageing ships with hazardous materials.
Vessels being dismantled often contain dangerous gases or asbestos. Many yards are poorly equipped and have inadequate safety standards, campaigners say.
"All six fell unconscious while working inside a compartment of a scrap vessel which was brought into the yard about a week ago," senior police official Nur Muhammad Bepari told the BBC from the town of Sitakunda.
The workers were rushed to Chittagong Medical College hospital on Sunday night but doctors declared four of them dead. The other two are still undergoing treatment.
"We are investigating and will be filing a case today. The relatives of those killed are not willing to register a complaint fearing that they will not get any compensation," Mr Bepari said.
Bangladesh Environmental Lawyers Association (Bela) Executive Director Syeda Rizwana Hasan said that ship breaking yards continue to violate rules by "importing old ships without pre-cleaning and removing toxic gases".
"That's why accidents continue to happen," he said.
It is estimated that more than 80 workers have been killed and hundreds injured - mostly due to gas explosions on oil tankers they were breaking - since 2006.
The High Court in Dhaka earlier this year lifted a ban on the import of ships but ordered the owners to comply with strict environmental regulations.
A spokesman for the Bangladesh Ship Breaking Association said that they were investigating the latest incident, which "looked like an accident".
Ship breakers say steel from recycled ships supplies around 60% of Bangladesh's total steel demands, while the $1.5bn ship scrap industry also provides jobs to thousands of people.