What does Formula 1 mean to India?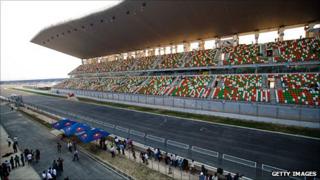 Does this Sunday's Indian Grand Prix herald a new era in the country's motorsport, or is it just a one-off marketing opportunity, asks Indian racing driver Armaan Ebrahim.
Numbers can throw up interesting surprises.
Here are some that may seem relevant in the context of the arrival of Formula 1 racing in India.
There are more than 40 million cars in India. By this year end we should be the sixth largest car manufacturer in the world, overtaking Brazil.
By 2050, India is expected to become the top car maker in the world, with more than 600 million vehicles on the road.
On the other hand, India is ranked 126th in the world in terms of car ownership - cars per 1,000 people - far behind Estonia, Latvia and Trinidad and Tobago (China is ranked 114th).
Driving culture
What these numbers tell us is a story we see across sectors of industry - education, retail and elsewhere.
It is the tale of two Indias.
There is the India of rising consumerism and opportunities. Then there is the India of poverty, struggle and lack of opportunities.
This divide manifested itself in the build-up to the inaugural Indian Grand Prix on a 2,500-acre property on the outskirts of Delhi - farmers protested against the alleged forcible acquisition of their land by the government.
As a racing driver, it is heartening to see Formula 1 finally arrive in India.
I recall chatting with former F1 driver David Coulthard on the sidelines of a show we did together on the future of the sport in India.
"The key to building a future for motorsport in your country lies in building a driving culture, more than just a watching culture," he told me.
"People will watch good racing whether from the stands or from their living rooms. But they will only really connect with racing when they feel invested in it."
In the past few weeks, there has been a surge in business interest in the India Grand Prix.
Road-shows, media interactions, mall promotions with F1 cars, and online and advertising-driven promotions have done a lot to arouse the curiosity of the uninitiated fan.
Big corporations have even made mega investments in F1-related properties, with Sahara Group's $100m buy-in into the Force India team hitting the headlines.
Perhaps for the first time an Indian company (Airtel) has chosen to divert sponsorship funds from cricket to motorsport.
Tactical hitch-hikers
But the answers to the real questions are still elusive.
Is the new-found corporate - and spectator - interest in the Indian Grand Prix indicative of the emergence of a new era in Indian motorsport?
Or is the inaugural Formula 1 race just an event that offers an unmissable marketing and media opportunity?
Make no mistake, there have been Indian companies who for over two decades have relentlessly invested time and money in developing Indian motorsport by building infrastructure, entry level racing championships, go-kart tracks and driver development programmes.
It is my belief that they will continue and enhance their efforts.
The critical question is, will there be more companies who will be joining to push motorsport or are we just seeing a plethora of tactical hitch-hikers?
Will the companies support Indian motorsport by investing at the grass-roots level to develop facilities, infrastructure and, most importantly, young Indian drivers for the future?
Or will they lay off Indian motorsport till F1 returns to town next year?
Personally I would be delighted if the first F1 race in India turned out to be a grand spectacle.
I would be even happier if it ushered in a new era in Indian motorsport. Only time will tell.