India campaign over 'draconian' anti-insurgent law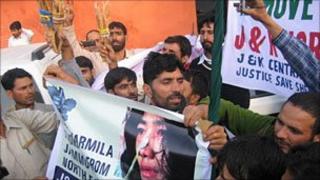 Prominent Indian activists have begun a 3000km (1864 miles) drive from Indian-administered Kashmir to north-eastern Manipur state to demand the withdrawal of a controversial anti-insurgent law.
The Armed Forces Special Powers Act (AFSPA) gives the security forces the powers of search and seizure.
It also protects soldiers who may kill a civilian by mistake or in unavoidable circumstances during an operation.
The law has been blamed for "fake killings" in Kashmir and Manipur.
An Indian woman in Manipur has spent more than 10 years in a protest fast against the law.
Irom Sharmila Chanu, 40, has been force-fed through a pipe in her nose since November 2000.
'Dangerous'
Leading activists like Medha Patkar, Sandeep Pandey and Singhjit Irom - the brother of Irom Sharmila - have joined the drive, which is expected to travel in cars through northern and western India before reaching Manipur.
Earlier reports suggested that campaigners would be marching between the states.
"This is not just about Kashmir or Manipur. This is the battle of every citizen. AFSPA is a dangerous law. It should go," Irom Singhjit said.
India introduced AFSPA in 1958 to put down separatist movements in certain parts of the country.
The law was first enforced in Manipur and later enforced in other insurgency-ridden north-eastern states.
It was extended to most parts of Indian-administered Kashmir soon after the outbreak of armed insurgency in 1989.
The law gives soldiers immunity against prosecution unless the Indian government gives prior sanction for such prosecution.
The government maintains that the AFSPA is necessary to restore normalcy in regions like Kashmir and Manipur.
The chief minister of the state of Jammu and Kashmir Omar Abdullah has repeatedly stated that the AFSPA needs to be amended or withdrawn from those areas of Indian-administered Kashmir where the army is no longer needed to fight insurgency.