Suspected US drones 'kill 10 militants' in Pakistan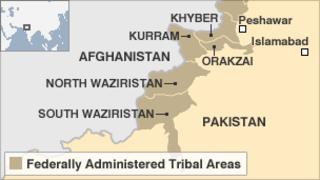 At least 10 suspected militants have been killed in two apparent US drone strikes in Pakistan, officials say.
A strike in North Waziristan killed four suspected militants. Officials say one of the dead is a commander from the Haqqani militant network.
Another attack targeted a compound in South Waziristan, killing at least six suspected militants, officials said.
The volatile tribal region where many insurgents have taken shelter is frequently targeted by drone missiles.
The US says the North and South Waziristan provinces have provided sanctuary to al-Qaeda and Taliban insurgents who are involved in attacks on Nato forces in Afghanistan.
The commander killed in the North Waziristan strike is named by Pakistani officials quoted by the Associated Press news agency as "Jalil".
One official quoted by the agency said that he was a key co-ordinator for the notorious Haqqani network and related to the group's leader, Sirajuddin Haqqani.
A number of senior militants have been killed in recent drone strikes in the region, but these killings have largely been reported by US-based officials.
Ties between the uneasy allies have been strained in recent months and tensions escalated after the killing of Osama Bin Laden.
More recently, the former top military officer in the US has accused Pakistan of supporting the Haqqani network.
The drone strikes come as the US special envoy to Afghanistan and Pakistan, Marc Grossman, arrived in Islamabad in an effort to improve relations with Washington.
Drone attacks have escalated in the region since President Barack Obama took office in 2008. More than 100 raids were reported in the area last year.
The US does not routinely confirm drone operations, but analysts say only American forces have the capacity to deploy such aircraft in the region.
Pakistan publicly criticises drone attacks, saying they fuel support for militants. Observers say the authorities privately condone the strikes, although there have been recent signs that they want to limit the scope of such attacks.
A number of militants, some of them senior, have been killed in the raids, but many civilians have also died.