India successfully launches monsoon research satellite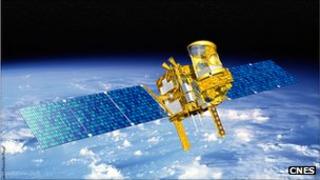 India has successfully launched a new satellite, the Megha-Tropiques, to study the patterns of the monsoon.
The one-tonne satellite was one of four spacecraft fired into orbit on Wednesday from Sriharikota, about 80km from Madras.
The Megha-Tropiques satellite is a joint venture with France.
Its should give meteorologists fresh insight into how water moves through the atmosphere to produce the intense weather associated with monsoons.
India built the satellite platform and provided the launch rocket; France has provided its instruments.
The Megha-Tropiques has been put on a low-inclination orbit around the equator (between 23 degrees North and South), meaning it will pass over India almost 12 times a day.
The launch is the latest in a series carried out by the Indian space agency (Isro), which is establishing closer ties with a number of its international counterparts.
For example, data from Megha-Tropiques will be shared with the meteorological organisations in Europe and the US that acquire their weather satellite information.