India encephalitis outbreak kills 400, mainly children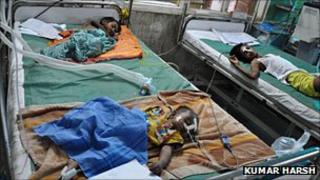 More than 400 people, mainly children, have died in an outbreak of viral encephalitis in northern India, health officials say.
So far 2,300 patients have been admitted to a hospital in the affected Gorakhpur area of Uttar Pradesh state.
A doctor told the BBC that it was a "tragedy beyond imagination", with children dying every day.
Nearly 6,000 children have died of encephalitis in the hospital since the first case was detected in 1978.
Most of the deaths this year have happened since July, doctors say.
The disease occurs regularly during the monsoon in the Gorakhpur region bordering Nepal in the foothills of the Himalayas.
The low-lying areas are prone to floods, providing a breeding ground for mosquitoes which commonly transmit the virus.
'Tragedy'
Doctors say affected patients come from 10-12 districts in the region, and are mostly poor.
Until 2005, the majority of deaths were caused by Japanese encephalitis, caused by a mosquito-borne virus, doctors say.
But in the past six years, children have been dying of other forms of viral encephalitis, the exact cause of which is unclear.
One possibility is a water-borne virus present in contaminated water, doctors say.
The diseases cause head aches and vomiting and can lead to comas, brain dysfunctions, seizures and inflammations of the heart and kidney.
Doctors say children between the age of six months to 15 years are worst affected and most of the victims are poor people from rural areas.
"It is unbelievable tragedy. There are five to 10 children dying every day," Dr KP Kushwaha, head of paediatrics at the BRD Medical College, the only hospital treating patients, told the BBC.
Most of the 370 beds in the paediatrics and medicine departments at the hospital are overflowing with more than one patient to a bed, he said.
A fifth of the children who survive have to live with neurological weaknesses, doctors say.
"Children are most affected because they have lower immunity and they end up consuming a lot of contaminated water at home," Dr Kushwaha said.
'Shambles'
Though the incubation period of viral encephalitis is between three and 30 days, patients are brought to the hospital from far-flung areas because of the lack of adequate healthcare in their villages.
"The public health care system is in a shambles. And the tragedy repeats every year," said Kumar Harsh, a local journalist.
The government says it has tried to check the regular outbreak of the encephalitis in the region.
Two massive vaccination drives against Japanese encephalitis were carried out in Gorakhpur in 2006 and 2010, leading to a drastic decline of the disease in the area.
Also, people took precautions by using mosquito nets and repellents.
But tackling other forms of viral encephalitis has proved to be tougher challenge, and controlling it will also require a vast improvement in sanitation and drinking water supply in rural areas, health officials say.
The state government disbursed millions of rupees from a federal health programme for treatment of patients at the state-run BRD Medical College in 2009.
Part of this money was spent in hiring 135 researchers, doctors and paramedical staff to beef up treatment.
Most of the money ran out by August, leaving only 36 of them receiving regular salaries, say authorities.
The encephalitis outbreak in Gorakhpur has attracted national and international attention - scientists from US-based Centers for Disease Control visited the area in 2009, and took away medical samples to examine the virus.
In 2005, a virulent outbreak of Japanese encephalitis in Gorakhpur killed 1,000 people, mostly children. This was the worst outbreak since 1978.