India PM assures campaigner Anna Hazare over corruption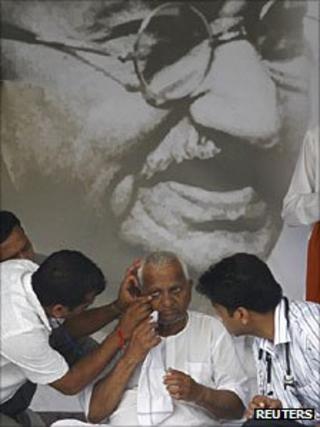 Indian PM Manmohan Singh has assured campaigner Anna Hazare that he is committed to bringing about strong laws to curb corruption.
But the prime minister said that such a move needed a political consensus.
Mr Hazare went on a 12-day hunger strike in August to demand the installation of a citizens' ombudsman to crack down on graft.
Mr Hazare, 74, has vowed to continue his campaign until a tougher bill was passed by the parliament.
He has also demanded sweeping electoral reforms.
In a letter to Mr Hazare, Mr Singh said the government was working on an "exhaustive agenda to fight corruption and improve government".
Mr Singh wrote that he hoped that the parliament would soon agree to a citizens' ombudsman, or Jan Lokpal - an independent body with the power to investigate politicians and civil servants suspected of corruption.
'Political consensus'
The prime minister also wrote that Mr Hazare's demand for electoral reforms - which includes the right to recall a candidate - would require a political consensus.
"We want to discuss the various proposals for electoral reforms with all political parties and want to act on those issues where consensus is evolved," Mr Singh wrote.
Separately, Congress party leader Digvijay Singh has warned Mr Hazare that his aides and the opposition Bharatiya Janata Party (BJP) were "using" him.
In an letter to Mr Hazare, Mr Singh said, "It seems that you are surrounded by anti-Congress people. These people are using your clean image for their own political gain."
In April, Mr Hazare called off a hunger strike after four days when Mr Singh said that he could help draft legislation to create a citizens' ombudsman.
The final version of the bill was presented in early August, but Mr Hazare and other activists rejected it because the prime minister and senior judges would be exempt from scrutiny. Mr Hazare then went on a second hunger strike.
In August, the government appeared to agree to the demand that the prime minister would be brought under the ombudsman's jurisdiction.
India has recently been hit by a string of high-profile corruption scandals including a telecoms bribery scam that may have cost the government $39bn (£23bn), alleged financial malpractice in connection with the Delhi 2010 Commonwealth Games and allegations that homes for war widows were instead given to civil servants.
Critics of the government say the scandals point to a pervasive culture of corruption in Mr Singh's administration.
A recent survey said corruption in Asia's third largest economy had cost billions of dollars and threatened to derail growth.