Bangladesh unveils $130 'Doel' laptops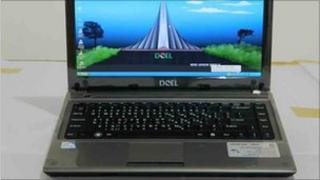 Bangladesh has unveiled a domestically made laptop which officials claim is one of the cheapest in the world.
Prime Minister Sheikh Hasina launched the computer, named Doel, at a ceremony in the capital Dhaka on Tuesday. It is the first laptop made in the country.
The state-owned telecoms company Telephone Shilpa Sangstha (TSS) is producing four models of the laptop.
The most basic one is priced at 10,000 taka ($130/£83). The primary model runs the android operating system.
"This is a big step towards building a digital Bangladesh. When villages get laptops at a cheaper price they will be connected to the internet and that will bring lots of benefits," TSS managing director Mohammad Ismail told the BBC.
Initially, the laptop will be distributed to various government departments. But later on they will be made available to the public and to tens of millions of students.
Mr Ismail said that at the moment Bangladesh is producing 10% of the components for the laptop and the rest are imported.
"But within six months we will be able to produce 60% of the components," he said.
However, the country's internet connectivity remains poor and critics have raised doubts whether the distribution of laptops alone will help the country to connect digitally.
The government has launched an ambitious plan, known as Digital Bangladesh, with the aim of digitally connecting the country by 2021.
"Every part of the country will be brought under e-governance, while the telecommunication system is being modernised to cut the digital divide," Sheikh Hasina said during the inauguration.