Bill Gates India scheme 'spared 100,000 from HIV'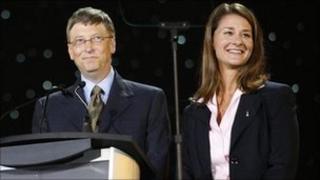 About 100,000 people in India may have escaped HIV infection over five years because of a scheme funded by the Bill and Melinda Gates Foundation, a study by the Lancet suggests.
The Avahan project was launched in 2003 in six states which had the highest rate of HIV in India at the time.
The aim was to invest in HIV prevention by targeting high-risk groups such as sex workers and truck drivers.
The Lancet study said it showed such an investment can reduce HIV prevalence.
Safe-sex counselling
The initial findings of the study had some data limitations, AFP reports, but the study's authors make it clear that investing in prevention can have a positive impact.
"The results of our analysis suggest that Avahan had a beneficial effect in reducing HIV prevalence at the population level over five years of programme implementation in some of the states," the assessment said.
It said that the findings supported investment in well-managed HIV prevention programmes in low and middle-income countries.
The $258m (£164m) Avahan project was based in the states of Andhra Pradesh, Karnataka, Maharashtra, Tamil Nadu, Manipur and Nagaland.
It targeted high-risk groups such as sex workers, injecting drug users and truck drivers with tactics such as safe-sex counselling, free condoms, exchanging used needles for sterilised ones and through campaigning and advocacy.
It found that the campaign was most effective in the districts that got the most resources but it also had a greater impact in the highly-populated southern Indian states.
Indian authorities say the number of annual new HIV infections has declined by more than 50% during the past decade.
India also runs government Aids control schemes, many done in partnership with international donors.
There was some criticism of the Avahan project when it was launched for being poor value for money, AFP reports, but the study disputes this assertion.
The authors of the study were funded by the Gates Foundation, but as a peer-reviewed journal material for publication is examined by outside experts.