Sri Lanka ruling coalition sweeps council polls
By Charles Haviland
BBC News, Colombo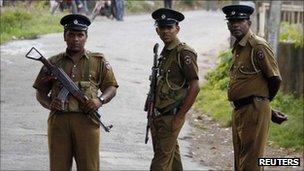 The governing coalition in Sri Lanka has won 21 out of 23 councils in local elections.
But the coalition lost the most important council, the capital, Colombo, to the opposition.
Saturday's voting - the third and final wave of local polls across the country - was overshadowed by violence.
Three people died in clashes involving rival politicians from the governing party. They included an adviser to president and a bodyguard.
Once more President Mahinda Rajapaksa's coalition has shown that it is popular, taking all but two of the councils being contested, including some traditional bastions of the opposition United National Party.
But the prize the government really wanted, the city of Colombo, went, as before, to the UNP, a party which appears to be more attractive to the city's large Muslim and Tamil population than the governing Sri Lanka Freedom Party.
The three waves of local elections this year show that Mr Rajapaksa remains relatively weak in the capital and the minority-dominated north and east, but strong elsewhere.
An election monitoring group told the BBC Sinhala service that these elections were not free or fair as the government made wide use of state resources in campaigning.
The major role of thuggery in Sri Lankan politics was also laid bare on Saturday, when two rival politicians from the president's party fought each other, each backed by gangs of supporters.
A presidential adviser was shot dead, along with his bodyguard and another associate. His antagonist, a government MP, was critically injured.
The state media have largely ignored or sought to play down the bloodshed and no arrests have been reported.