India: Kerala churches reward big families
By Ashraf Padanna
Trivandrum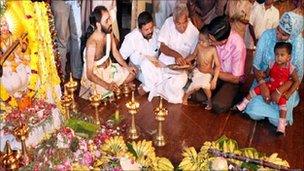 Several Christian parishes in the Indian state of Kerala have begun offering incentives to couples who produce more children, officials say.
One church of the Syro-Malabar denomination in Kerala's Wayanad district has offered 10,000 rupees ($200) for a couple's fifth child.
The move comes after a report submitted to Kerala's chief minister proposed imposing a strict two-child policy.
But church groups have aired concerns about dwindling numbers of Christians.
Census statistics show that the number of Christians has been in steady decline. Unofficial estimates say they could slip below 18% of Kerala's population in the latest census.
But the figures also show that the Hindu population in Kerala may be declining faster than the Christian one. Muslims are increasing in numbers.
The state's Hindu and Christian populations declined by 1.48 and 0.32 percentage points respectively, while Muslim numbers increased by 1.7 percentage points between 1991 and 2001.
Nevertheless church groups have expressed considerable concern about the trend.
"Our campaign is for responsible parenthood but the decision on how many children a couple should have is personal. We are not against family planning," said Fr Paul Thelakkat, a spokesman for Syro-Malabar Church, which is advocating the policy of rewarding procreation.
Although the church hasn't announced rewards statewide, Fr Thelakkat says individual parishes have been offering incentives to have more children. Some have even offered free treatment at their hospitals for large families.
Kerala's Catholic church has also mounted campaigns promoting larger families.
But a recent 12-member panel for the Commission of Rights and Welfare of Women and Children submitted a report to the government last month recommending harsh punishments, such as three months in prison or a 10,000 rupee fine, to any father expecting a third child.
Christian and Muslim groups condemned the report, saying it encroaches upon their religious freedom.
But the leader of the Hindu United Front in the state said "the two-child norm should be strictly enforced in India as we have limited resources to share among us".
Kummanam Rajashekharan added that the spate of church campaigns encouraging procreation only serve to create tensions between the religious communities.