Court accuses Pakistan coalition of Karachi murder role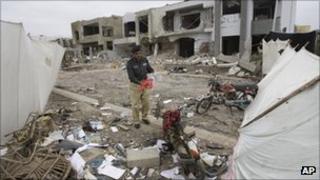 Pakistan's Supreme Court has said that parties from the ruling political coalition are involved in the murder of civilians in the port city of Karachi.
At least 800 people have died in politically motivated attacks in Pakistan's largest city in 2011.
While the court held that all political parties were responsible, it stated that the party which controls Karachi, the MQM, was especially at fault.
The MQM has denied the allegations and says that it is being victimised.
It says that it is being singled out by the judiciary because of its liberal views.
The BBC's Syed Shoaib Hasan says that most of the observations made by the Supreme Court do not come as a surprise.
But our correspondent says they reaffirm the fact that senseless and increasingly brutal killings in the city have been carried out with official complicity.
The Supreme Court also maintained that large parts of Karachi had become no-go areas - even for the security agencies.
It said that operations needed to be conducted in those neighbourhoods which are controlled by criminal gangs.
The court also observed that a major reason for the breakdown in law and order was the politicisation of the police force.
Our correspondent says that the findings are likely to make difficult reading for the government, which says it has restored peace in Karachi.
But the city's underlying problems remain unresolved.
The court's findings follow a judicial investigation which concluded that the government had failed to protect civilians in the country's southern business capital.
Much of the recent violence involves armed gangs linked to rival ethnic and political groups, although the security forces in August suggested that an influx of hundreds of thousands of ethnic Pashtuns had worsened tensions.
Many moved to Karachi after being displaced by anti-Taliban operations in the north.