Indian police website makes Rajiv Gandhi assassin gaffe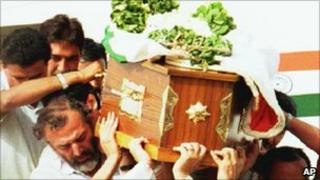 India's Central Bureau of Investigation has been criticised for wrongly claiming it "successfully put on trial" a woman suicide bomber who killed former prime minister Rajiv Gandhi.
The CBI website stated that after a trial, Dhanu had been "sentenced to death" by the Supreme Court.
The error appeared for a few hours on Tuesday when the CBI listed its "achievements", but was later removed.
Dhanu was a member of Sri Lanka's now-defeated Tamil Tigers.
She blew herself up at an election rally near Madras (Chennai) in May 1991, killing Rajiv Gandhi.
It is thought the rebels wanted revenge for his decision to deploy Indian troops in Sri Lanka in 1987.
Four people were later convicted and given the death penalty for involvement in the murder. Three of them are still on death row. The fourth - a woman - had her sentence commuted to life in jail on appeal.
The CBI's mistake has been ridiculed by the Indian press. The Indian Express newspaper said the "blooper is set to haunt the CBI for a long time".