Analysis: Pakistani links to the Haqqani group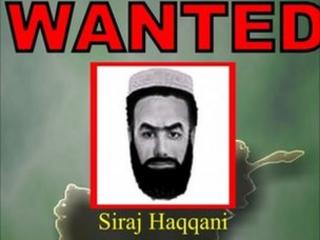 Afghan militant leader Sirajuddin Haqqani's interview with the BBC has come at a time of heightened tension between Afghanistan and Pakistan, as well as between Pakistan and the US.
Temperatures on both sides have been rising in the wake of audacious attacks by militants in Kabul, including the 20 September assassination of Burhanuddin Rabbani, a former Mujahideen leader who was leading negotiations with Taliban groups on behalf of the Afghan government.
These attacks are seen by many as orchestrated attempts to derail the process the US is trying to put in place as part of its strategy for a military drawdown in Afghanistan by 2014.
Many in Pakistan and Afghanistan believe that Mr Haqqani's denial in his BBC interview of a link with Pakistani intelligence - the ISI - and with Mr Rabbani's assassination are also attempts to reduce international pressure on Pakistan.
Two days after Mr Rabbani's assassination, the chairman of the US Joint Chiefs of Staff, Adm Mike Mullen, called the Haqqani group a "veritable arm" of the ISI in remarks before a Senate panel.
He said that the group's recent attacks against US installations in Kabul - including an attack on the US embassy in September - had been ordered by the ISI.
Cause for worry
While other arms of the US administration have chosen not to repeat Mr Mullen's language, they have insisted in their respective comments that Pakistan needs to sort out the nature of its relationship with militant groups.
On Saturday Afghan President Hamid Karzai stated that instead of talking to the Taliban whose addresses he could not find, he would rather talk to Pakistan - implying that Pakistanis controlled the Taliban.
A statement issued by the presidential palace in Kabul said new evidence showed that Mr Rabbani's killer was a citizen of Pakistan.
This is not the first time Mr Haqqani has tried to distance himself from Pakistan.
In an interview with Reuters news agency last month, he insisted the leadership of his group was not based in the Pakistani tribal region of North Waziristan anymore, but had moved to areas inside Afghanistan which were under their control.
Western and Afghan officials have for months been pressuring Pakistan to move against the Haqqani network and its affiliates in North Waziristan, a demand which the Pakistani military have constantly rejected.
Analysts believe that Mr Haqqani's recent and unusual interactions with the international media would suggest that the group has a cause for worry.
Afghan intelligence officials told BBC's Bilal Sarwary in Kabul that the US and Afghan governments had shared communication intercepts of Badruddin Haqqani, a brother of Sirajuddin Haqqani who deputises as the group leader, with the ISI.
"Major attacks in Kabul were carried by him with help from the ISI, mostly in the form of intelligence sharing," the intelligence officials said.
"We will continue to urge our Pakistani counterparts to end [their] support for a group that kills Afghans."
Allegations that the Haqqani network enjoys links to the ISI are not new.
Northern Afghanistan police commander Gen Mohammad Daud Daud told the BBC a week before his assassination by a Taliban suicide bomber in May that a senior US official had told him that "if the Haqqani group is a sniper, the ISI is the shooter taking aim''.
Pivotal role
Officials also point out that it is highly organised in planning its attacks and hard to infiltrate, which is why reliable intelligence about it is hard to come by.
Analysts believe that any decisive action on the part of the international community to isolate Pakistan could seriously damage the military and economic interests of the Haqqani network.
There is considerable evidence to show that militarily the Haqqani network played a pivotal role in propping up the Taliban insurgency to the level where it stands today.
Afghan intelligence officials and tribal sources in Pakistan also point to substantial sources of funds available to the network, much of it provided in the form of protection money from contractors and traders, or criminal elements including smugglers and kidnappers.
But any proof of a Haqqani network link with Pakistan could bring its standing among the Afghan people into question.
That may be why Mr Haqqani remarked - in comments which appear to be directed at an Afghan audience - that the Afghan government was trying to divide the Taliban by drawing the Haqqanis into a dialogue.
Any suggestion that the network draws its strength from Pakistan's ISI would render it unpopular with most sections of the Afghan people, including Taliban foot soldiers.
Analysts say this could be used against the group when it tries to speak for all the Taliban at any future power-sharing deal.