Kashmir uproar over Afzal Guru clemency plea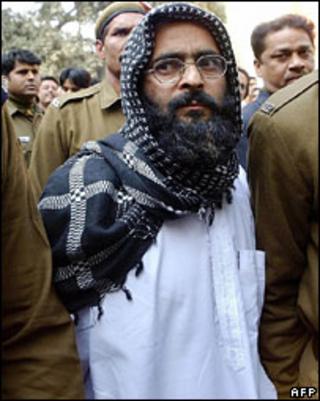 Assembly members in Indian-administered Kashmir are angry that moves to debate clemency for a local man on death row in India have been prevented.
A resolution had been tabled on the case of Afzal Guru, who was convicted over the 2001 India parliament attack.
Sheikh Rashid, the independent who brought the resolution, said the state's leadership had done "great damage" to the Kashmir cause.
Guru, who says he is innocent, faces death by hanging.
"At least they could have passed the resolution and the final decision was lying on the central government," Sheikh Rashid told the BBC.
He believes the state's political leaders should have supported his resolution, which he hoped would publicise Guru's case.
Instead, the debate, scheduled for Wednesday, did not take place for lack of time.
Sheikh Rashid spoke to the BBC from hospital where he was being treated for minor injuries after police removed him from protests in front of the assembly.
"All the parties in the state were tied up in a nexus as they act on the orders of Delhi," he said.
Legislators from the Bharatiya Janata Party stalled proceedings, demanding the debate be dropped.
Sheikh Rashid said executing Guru could have "serious consequences". Hardline separatist leader Syed Ali Geelani has also warned of major unrest if Guru is executed.
Opposition People's Democratic Party (PDP) leader Mehbooba Mufti blamed the state's governing National Conference and Congress parties for sabotaging the debate.
She told the BBC that Chief Minister Omar Abdullah "could do nothing to stop the uproar and start the debate on the resolution, except keep smiling".
Controversy
The December 2001 attack was one of the most controversial incidents in recent Indian history.
India blamed the attack on the Jaish-e-Mohammed militant group, which it said was backed by Pakistan.
Pakistan denied involvement in the attack but relations between the two countries nosedived as their armies massed about a million troops along the border.
Mohammed Afzal was one of two men sentenced to death. But the punishment for Shaukat Hussain was later reduced to 10 years in jail on appeal.
Two other accused in the case, SAR Geelani and Afsan Guru, were acquitted for lack of evidence.
Afzal Guru's appeal was refused by the Supreme Court and his appeal now rests with the president.
Families of policemen killed in the attack have demanded Afzal Guru's immediate hanging.