'Toxic ship' MV Asia Union leaves Bangladeshi waters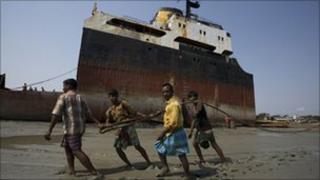 The suspected toxic ship MV Asia Union, which last week sought to enter Bangladesh, left the country's waters in the last few days, officials say.
The ship's agents wanted permission for the Chinese-owned vessel to be dismantled in Bangladesh.
But officials last week told the coast guard to turn it back after complaints that it may contain harmful chemicals and pose a health and safety threat.
Bangladesh has become one of the world's leading ship-breaking nations.
Dozens of cargo ships and tankers from around the world are brought to yards - mostly in the Chittagong region - to be dismantled.
"As per the request of the department of environment, the Coast Guard acted and the ship left the territorial waters of Bangladesh. We are not sure about its next port of call," Captain Nazmul Alam, deputy conservator of Chittagong port told the BBC.
The ship was anchored around eight nautical miles (12km) off the coast of the southern port of Chittagong.
Environmental groups said the vessel might possess hazardous substances including asbestos, toxic paints and chemical residues which are harmful to human health and the environment.
An official last week said a team would be sent to the ship to find out whether it contained any toxic material before taking a final decision. But Captain Alam said that nobody visited the ship.
Every year, dozens of old ships are brought to Bangladesh to be dismantled for scrap.
Ship-breakers say that recycled steel from dismantled ships supplies around 60% of Bangladesh's total steel demands.
They say that the industry also provides jobs to thousands of people.
But environmentalists allege that many old ships come with hazardous materials which are dumped in coastal areas, posing a danger to the environment and to workers.