Kashmir bodies: Omar Abdullah promises DNA tests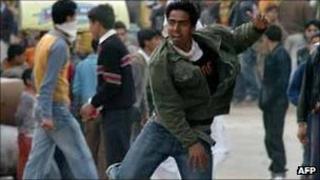 The authorities in Indian-administered Kashmir say they will carry out DNA tests on thousands of bodies discovered in some 40 mass graves.
Chief Minister Omar Abdullah's promise followed uproar in the state assembly.
Human rights groups say the bodies are those of civilians killed by security forces. The authorities say the graves contain the remains of militants.
More than 2,000 bodies are said to lie in the unmarked graves, mostly located along the Line of Control (LoC).
The de facto border separates Indian- and Pakistani-administered Kashmir - both countries claim the Himalayan territory in its entirety.
Last week the Jammu and Kashmir Human Rights Commission ordered a fresh inquiry into allegations that 3,000 more bodies are buried at other sites in south Kashmir.
'Hide the truth'
"If [relatives of the missing persons] come to us with samples we will be more than prepared to carry out DNA testing," Chief Minister Abdullah told the state assembly.
"It will take time. It will not happen overnight but a beginning can be made. It is not our intention to hide the truth."
The recommendations of the rights commission have often been ignored by the state government in the past, but Mr Abdullah said its latest report would not be neglected.
Human rights activists say that as many as 8,000 people have gone missing in Indian-administered Kashmir during 20 years of rebellion against India's rule over the Muslim-majority region.
They say that the unmarked graves may contain the bodies of thousands of civilians who vanished and were possibly killed by government forces over suspicions they were collaborating with rebels.
Indian officials accuse the right groups of exaggerating their figures. They estimate the number of missing to be between 1,000 and 3,000 people.
They also deny that security forces killed them, arguing the majority of those killed had crossed over into Pakistan for arms training and that those buried in the unmarked graves are mostly militant Pakistanis killed in clashes with Indian soldiers and police.