DIY flood relief in Pakistan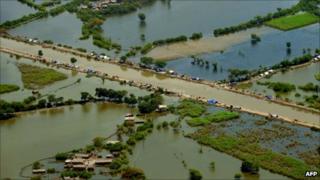 Shocked at the lack of help available for victims of last year's floods in Pakistan, Faisal Kapadia and his friends collected money using social media and started delivering supplies to the affected areas. During the latest flooding in Sindh they have been back out to help those affected.
"Pakistan over the last month has again been plunged into a very dismal state.
I along with a few friends have been involved in raising aid online and distributing it by hand all over this region.
We have visited the Badin area three times in the last month.
On our last trip we drove into Badin from Karachi, amidst reports of violent looting on the roads as well as relief trucks being mobbed.
Past the halfway point, at Thatta, the area became almost surreal, with water at road level stretching into the horizon as far as the eye could see.
Water-logged
As we drove closer to Badin the road was littered on both sides with makeshift tents and people sitting with their families in the awful heat.
They drink from the water around them and use the same water for washing and toilets.
We drove into Nindo, Khoski and beyond to distribute 2,000 'ready-to-eat' meals we had brought with us.
Everywhere we went we saw appalling conditions.
One can see relief organizations putting up camps and road-side kitchens all along the way to help feed the needy but clearly the throngs surrounding them are beyond their capacity.
The water is 3-4 feet deep in many areas.
In one place we saw people crossing their motor-bikes on a donkey cart from a marooned, water-logged village
I saw a snake almost as long as a car swimming lazily through this water, as people waded through it.
Abandoned properties
The army was everywhere trying to rescue people from the water and seemed the biggest credible force of relief.
There are a complete lack of international aid organizations on the ground.
Most of the government camps are on higher ground. They are dry but face a severe shortage of doctors as well as food.
The biggest issue was the reluctance of people living in these water-ravaged villages to be moved to relief camps as they fear looting and damage to their abandoned properties.
Compared to last year the damage is a lot worse. Where 7.2 million people were affected by the floods in 2010, the number has already gone over 8 million this time around.
It is also more acute because many of these people were subjected to destruction last time around and had just begun to limp back to their normal lives when the rains struck them with an unprecedented fury.
Worse still is the international response, where it was lukewarm last year this time around it has been cold and almost non-existent.
Social media
In this month alone our organization has done two medical camps in Khorwah and Sanghar, ran a kitchen to feed 15,000 people cooked food in Badin.
We have provided over 1,000 anti-malaria medical kits, 800 ration hampers, 2,000 ready-to-eat meals and have just opened another kitchen which will feed 750 people per day over the next 10 days in Khorwah, Tando Ahmed Khan and Morro.
We have no plans to stop - the scale of the disaster is so immense that it will take a few months just for the water to go down.
We have to keep at it if we are to save the lives of our fellow countrymen.
We shattered every barrier of negativity that says an unorganized group of people cannot help their countrymen through social media.
We are living proof that one idea can change the destiny of many.
So the next time someone tells you Pakistanis are a lazy race who keep asking for aid internationally because they don't want to help their own, point them to our story.
We will show them a side of this country which nobody understands or is ready to highlight."
Research by Megha Mohan at BBC World Have Your Say