India: Woman injured during Baba Ramdev crackdown dies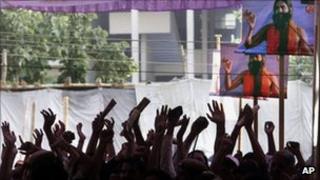 A woman who was seriously injured during a police crackdown in June on an anti-corruption hunger strike by yoga guru Baba Ramdev has died.
Rajbala, 51, was hurt when police broke up the fast and evicted Baba Ramdev from the capital, Delhi.
She was admitted to hospital in a critical condition with severe spinal injuries and had undergone surgery.
The crackdown was widely criticised. India's PM said it was "unfortunate" but that there had been no alternative.
Baba Ramdev continued his hunger strike against corruption in his home city of Haridwar for nine days.
He had been campaigning for the recovery of suspected bribe money allegedly held overseas and has called for the death penalty for corrupt government officials.
Around 30 people were injured when police used batons and tear gas to disperse thousands of his supporters in central Delhi in June. Rajbala was left in a critical condition.
A senior leader from the opposition Bharatiya Janata Party (BJP) LK Advani said that the police action was "naked fascism".
The government justified the crackdown saying that the yoga guru had reneged on his promises during negotiations.
Authorities said that Baba Ramdev had gathered 50,000 people at a ground in Delhi after seeking permission for a yoga camp to be attended by 5,000 people.
The yoga guru has millions of supporters and his daily TV programme is watched by millions across India.