India floods situation worsens in UP, Bihar and Orissa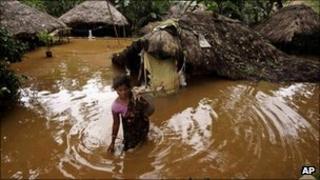 More than two million people have been affected by floods in India as torrential rains lash Orissa, Uttar Pradesh and Bihar states.
Heavy monsoon rains have been battering parts of India for the past fortnight.
More than 80 people have died in flood-related incidents, and some areas have been cut off by rising waters.
Heavy rains in Uttar Pradesh (UP) have killed more than 30 people across the state. A flood alert has been issued in eight districts in Bihar.
In Orissa, the worst affected state, vast parts of 10 districts have been inundated by flood waters, officials say.
Special Relief Commissioner PK Mohapatra said 55 people had died - some drowned, while others died from snakebites and in wall collapses.
More than 10 people who had gone missing after the boat in which they were travelling overturned in the Brahmani river in Dhenkanal district were rescued on Monday, officials say.
Some areas have been cut off because of breaches to river banks and embankments. Helicopters are the only way to bring food and water to people stranded there.
Officials said that more than 130,000 in Orissa alone have been evacuated to safety as the relief and rescue operation moves into full swing.
Hundreds of thousands of people in the state are reported to be taking refuge in trees or on the tops of buildings as flood waters continue to rise.
Flowing full
In UP officials say that most people were killed in wall and house collapses on Sunday caused by the incessant rain in the eastern districts of Varanasi, Jaunpur and Mirzapur.
Relief Commissioner KK Sinha said that most died in their sleep when the roofs of their mud houses collapsed.
Officials say that the water levels of two major rivers in UP - the Ganges and Gomti - are on the rise. Other rivers are full, but below the danger mark.
In neighbouring Bihar state, authorities have sounded a flood alert in eight districts, including the capital, Patna, after heavy rains led to a rise in the water levels on Ganges and Sone rivers.
Rivers are flooding their banks after a large amount of water was released from the Indrapuri barrage - the highest, say officials, since 1975.
At least 70 people who were marooned in the floods have been rescued from the Sasaram district, officials said.