US senators link Pakistan aid to Haqqani crackdown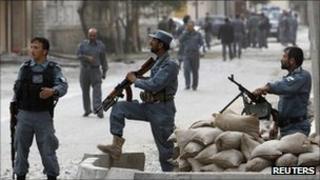 A US Senate committee has voted to make $1bn (£650m) worth of aid to Pakistan conditional on action against militant groups, such as the Haqqani network.
The group, which is believed to be based in Pakistan, has been blamed for a string of deadly attacks on Western targets in Afghanistan.
The vote follows some rare yet public statements signalling US anger at Pakistan's approach to militancy.
Pakistan denies its intelligence agency is working with the Haqqani group.
Interior Minister Rehman Malik told the BBC Urdu servcie that Pakistan was determined to fight all militants based on its border with Afghanistan.
The vote by the Senate Appropriations Committee still needs approval from the Senate and the House of Representatives.
Committee members approved the $1bn budget to support counter-insurgency operations by Pakistan's military, adding that this was $100m (£65m) less than what US President Barack Obama had requested.
But a committee statement says it "strengthened restrictions on assistance for Pakistan by conditioning all funds to the government of Pakistan on co-operation against the Haqqani network, al-Qaeda and other terrorist organizations".
Militant links
In July the US said it was withholding some $800m (£500m) in military aid to Pakistan, which equates to about a third of the annual US security aid to Pakistan, according to officials.
Correspondents say that move was an attempt to force the Pakistani army to choose between its relationship with America and its alleged ties with militant groups.
Ever since an assault last week on the diplomatic district of the Afghan capital, Kabul - which lasted 20 hours and left at least 25 people dead - was blamed on the Haqqani network, the US has stepped up pressure on Pakistan to act against the group.
On Saturday the US ambassador to Islamabad told Pakistan state radio that there was evidence linking the militants to Pakistan's government, adding that "this is something that must stop".
His comments just days after Washington said it could target the Haqqani network on Pakistani soil if the authorities there failed to take action against the militants.
And media reports in Pakistan also say that CIA chief Gen Petraeus earlier this week urged Pakistan's intelligence head Lt Gen Shuja Pasha to target the Haqqanis.
Pakistani authorities have consistently denied links with militant groups and warned that such statements "hurt ties".
But analysts say that US officials have long been frustrated at what they perceive to be Pakistani inaction against militancy.
Afghan network
The Haqqani network is often described by Pakistani officials as a predominantly Afghan group and it is closely allied to the Taliban, but correspondents say its roots reach deep inside Pakistani territory, and speculation over its links with Pakistan's security establishment refuses to die down.
However, in a recent interview with Reuters news agency, the son of the leader of the network, Sirajuddin Haqqani, said that the group no longer had sanctuaries on Pakistani soil because it felt secure inside Afghanistan.
Analysts say US concern about the capabilities of the Haqqani network is particularly acute as Nato is beginning to withdraw troops from Afghanistan.
Ties between the uneasy allies deteriorated sharply after the killing of al-Qaeda chief Osama Bin Laden on Pakistani soil by US commandos in May.
But relations were already strained as the US stepped up drone strikes targeting militants in Pakistan's tribal areas and public anger against the US was stoked over the release of Raymond Davis, the CIA contractor who killed two Pakistani men in Lahore.