Anger over 'lethargic response' to India Sikkim quake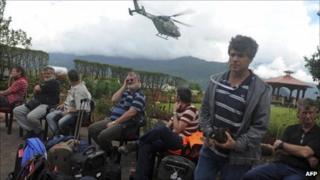 In parts of the earthquake-hit Indian state of Sikkim, conditions on the ground are little short of apocalyptic.
Entire areas are cut off because of landslides - and more often than not people are without clean water, adequate food supplies, medicine and telephone contact with the outside world.
Sikkim's hospitals have seldom been so full.
With local people bereft of help, it is hardly surprising that this disaster has created some resentment among them.
I experienced this overwhelming sense of frustration near Mangan - the epicentre of Sunday's quake - when a group of villagers stopped my car and demanded an explanation.
"Why are reporters focusing on the good work by the government, while no aid has reached any of the villages?" one of them angrily demanded.
Such was the angst of villagers that they seized my equipment and only returned it only after extracting a promise from me that I would report the "real story".
One of them, Rasi Tobgay, spoke for many when describing the destruction on the ground and the suffering of local people.
"It is impossible to take the seriously injured to the hospital because army helicopters are hovering with ministers in the sky," he said.
The villagers say little aid has been delivered beyond Mangan, although food packets have been air-dropped intermittently by the Indian air force.
Chungthang is in the southern end of north Sikkim and it is in this area that the quake has been the most catastrophic.
Hardly any parts of north Sikkim, connecting India to Tibetan plateau, have received any substantial aid since Sunday.
So has the response of the authorities been inadequate? Whatever the answer, there is no doubt they face numerous formidable challenges.
Principal among these are landslides, still taking place on a regular basis because of the quake and because recent heavy rainfall has loosened much of the mountainous land mass.
The state government may be stating the obvious when it reiterates that aid cannot get through while roads remained blocked, but it remains a valid point.
One such post-quake landslide recently washed away several houses in Jaangu area, close to Chungthang.
"We are still counting the casualties," Sikkim government spokesman KS Tobgay told the BBC.
Bombarded by boulders
While the main road link connecting Sikkim to mainland India - national highway 31A - has reopened with a disturbed traffic flow, Border Roads Organisation (BRO) employees say that the task of clearing the highways is not getting any easier.
"We are working around the clock but even then traffic movement remains disrupted," BRO official Rajaram Pal told me.
He said that the loosening of the land mass meant that no sooner had the highway been "cleaned" than more rocks and trees would fall down on top of it from the surrounding mountains.
One such landslide killed at least 17 workers in a hydropower plant in Chungthang, with employees literally bombarded by falling boulders.
The Sikkim government has admitted that the situation in north Sikkim is worrying and "no solution is in sight in the immediate future".
Mr Tobgay says that while "roads are being totally washed away" in and around Chungthang, it will take time to re-establish communication links.
In the meantime government officials at the forefront of the relief effort have been left with no option other than to trek 30-40km (18-24 miles) to reach places like Chungthang, Lachen, Lachung and Thangu valley, all close to India's border with Tibet.
So while the government relief effort is getting off the ground - with aid workers, doctors and disaster management teams being air-dropped in some areas - the numbers are small and the need is great.
On Wednesday there were 18 helicopter sorties that carried about 40 tonnes of food packets and medical supplies.
"That by no standard is adequate for hundreds of thousands of people," a government official said.
Meanwhile in the state capital Gangtok water supplies are becoming increasingly irregular. The state government has announced that water will only be supplied on alternate days in municipal areas.
If poor sanitation and water-borne diseases become problems, hospitals in the city are already flooded with patients, most with broken limbs.
"Conditions are going from bad to worse as more patients arrive for treatment, having walked from distant villages to Gangtok," one doctor in the city told me.
With no hope in sight for the beleaguered inhabitants of north Sikkim, the Indian home minister is visiting Gangtok "to take stock of the situation".
He does not need a team of advisers to realise that the state is facing its worst crisis in recent years and that the under-powered relief effort now needs to move into top gear.