Militant Pakistan group admits carrying out bus attack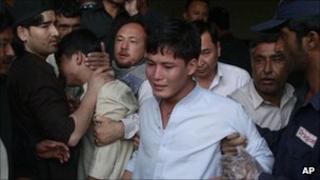 The sectarian group, Lashkar-e-Jhangvi, has said it was behind Tuesday's gun attacks in western Pakistan in which 29 people were killed.
Gunmen stopped a bus and killed 26 Shia pilgrims travelling through Mastung in Balochistan province.
They later attacked an ambulance that was carrying people injured in that attack, killing three more people.
Pakistan's authorities banned Lashkar-e-Jhangvi in 2001 for sectarian violence.
A predominantly Punjabi group with links to al-Qaeda and the Taliban, it is also linked with the 2002 murder of US reporter Daniel Pearl and other militant attacks, particularly in the southern city of Karachi.
The ethnic Hazara Shia community which was targeted in Tuesday's attacks has announced three days of mourning in the region.
Reports from the provincial capital, Quetta, said the atmosphere was gloomy on Wednesday morning and most markets were shut.
Meanwhile, police rounded up more than 200 suspects in overnight raids, most of them Afghan nationals living in and around Quetta.
Sunni and Shia extremists have frequently clashed and launched attacks against each other over the past 20 years in Pakisetan.
Tuesday's attack was the deadliest against Shias in Pakistan since a suicide bomber killed at least 57 people at a rally in Quetta in September 2010.
Shia Muslims are a minority in Pakistan. Nearly 600 ethnic Hazaras have been killed in sectarian attacks since 2002, all of them in Balochistan.
At least 13 people were killed when a suicide bomber struck in the car park of a Shia mosque in Quetta at the end of last month.