Rabbani death endangers Afghan Taliban talks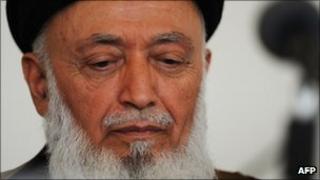 The death of former Afghan President Burhanuddin Rabbani will not necessarily derail the prospects for peace talks with the Taliban, but it will make the process far harder to manage.
As the former head of the northern alliance, the main armed opposition to the Taliban, Rabbani was a surprise choice to head the High Peace Council, which has made little headway in its task of seeking reconciliation with the Taliban.
The attack that killed him, following the assault on the US embassy last week, shows that some insurgent groups are still opposed to any peace deals, believing that a military solution is possible.
American officials laid the blame for last week's attack not on the mainstream Taliban, but on the Haqqani faction, which they believe operates in North Waziristan under the orders of the Pakistani government.
Whether the Haqqani faction, or the mainstream Taliban under their long-term leader Mullah Omar, carried out this attack, both will be happy to see him removed from the scene.
Elusive peace
Former President Rabbani may have died trying to negotiate peace - but in his life he was a highly divisive figure.
As a university lecturer in the 1970s, he was the founding father of the Afghan mujahideen.
He left Afghanistan in a crackdown against Islamist politics in 1973 and fled to Pakistan, where students who had been members of his political party were trained by Pakistan. They formed the nucleus of what was to become the mujahideen - the Islamic warriors who defeated Russian forces in the 1980s.
Rabbani led one of the key mujahideen groups, and emerged briefly as president of Afghanistan in 1992 in the darkest days of the civil war between the mujahideen, who fought among themselves after the Russians were defeated.
Rabbani's successor as head of the High Peace Council will need to be wary of meetings with potential intermediaries.
But as well as these physical constraints on reconciliation, there will be searching questions asked about who is pulling the strings of insurgent groups - and whether there is any possibility of a negotiated settlement at all.
For their part, the Taliban and other insurgent groups are still unconvinced about the good will of the Afghan government in seeking a peace deal.
The task of reintegrating lower-level fighters and commanders has had some success in recent years.
But 10 years after the Taliban were defeated and then frozen out of the post-war settlement of Afghanistan in 2001, a lasting peace deal looks as elusive as ever.