Sri Lanka lost era recalled by British graves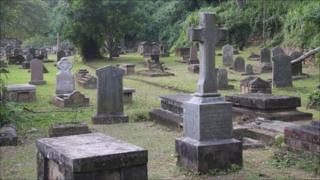 Just a few hundred metres from the clangour of the Temple of the Tooth - the holiest shrine for Sri Lankan Buddhists - lies a small Anglican graveyard that takes the visitor back in time.
Walking up a short lane, you quickly leave the noise behind and have only the monkeys in the trees as company.
Here lies the British Garrison Cemetery, established in 1817 for the British army just after the British takeover of Kandy.
The Kandyan kingdom had been the last part of the island, then called Ceylon, to hold out against the colonial power.
Charles Carmichael is employed by the Commonwealth War Graves Commission as caretaker of the graveyard and the adjoining small museum.
A Sri Lankan with some Scottish and Indian ancestry, he explains that the site soon started to "admit" all sorts of colonialists - civil servants and doctors, priests and railwaymen - and their families.
'Hard time'
Pitifully high numbers died young in an era when the link between mosquitoes and malaria was not yet understood (it was only discovered in 1902).
"When they came, there was nothing here - only jungles and diseases, no medicines," he says.
"They would have had a very hard time. The only luxury they would have had is reading a novel like Charles Dickens - that would have been their only pleasure."
Laid out under spreading trees, a carpet of grass underfoot, the graveyard has tombs in all shapes and sizes.
In one place, five infants are buried side-by-side in tiny graves. On the oldest tomb, the cursive script is weathered and covered in lichen.
Buried here is Captain James McGlashan, who fought valiantly in the Battle of Waterloo and the Peninsular War.
"His records say he came out of the battles without a scratch - a very lucky captain," Mr Carmichael says.
But he rashly took a bet that he could walk 200km (124 miles) from Ceylon's north-east coast to this hill town of Kandy, ignoring the hazards and the monsoon.
"He got wet and he had to sleep under trees in his wet clothes bitten by mosquitoes, leeches. And when he came to Kandy, he came with malaria fever.
"He survived a few days. On the last day, he told another captain: please get a reverend priest and give my last extreme unction, I don't think I'll survive. They did that and he slept and never got up."
He was 26.
'Died of sorrow'
Many cemetery "inmates" were coffee plantation owners - tea was not yet grown here at this stage.
A tomb from 1837 is in memory of Oteline Rudd, whose husband was a wealthy estate-owner. They fell on hard times.
"There was a coffee blight and all his estates got dried up, wiped out, and they became bankrupt, they lost everything. Even the chair this lady was sitting on was a borrowed chair.
"She died of sorrow. She was living in a wealthy state, her nice big bungalow, good food - but ultimately they lost everything."
Along with his wife, Rita, and friend, Senarath, who have come along to lend a hand with the sweeping and grass-cutting, Mr Carmichael works to keep the graveyard in good order.
He has been caretaker since 1998 when it was rehabilitated with funds from the Commonwealth War Graves Commission.
He has many stories of those buried here - unfortunate men killed by elephants, even one impaled on a stake by accident.
Under the most imposing grave of all - a fluted column - lies a colonial ruler, Sir John D'Oyly.
In an act of British cunning, he persuaded Sinhalese chieftains to make him their ruler, ousting the unpopular and violent last king of Kandy who had held out against British rule.
'First hippy of England'
Charles Carmichael says D'Oyly broke his promises to the chieftains and crushed their rebellion in 1818. Yet he was a scholar of Sinhala and the scriptural language Pali, and many locals liked him.
"Sir John D'Oyly was sort of like a Sri Lankan. He used to wear sarongs and shirts and grow his hair and beard. Maybe he was the first hippy of England," says the caretaker.
"I don't know if he became a Buddhist or not but he was a vegetarian."
Someone who met him at a party remarked how "everyone was surprised to see a Cambridge student appear in this manner".
In 1873 most burials stopped as Buddhist devotees did not want them so near the Temple of the Tooth.
However, relatives of those already in the cemetery did continue to be buried here until 1951 when a British spinster, Annie Fritz, was laid to rest only after a court order allowed it.
The cemetery then fell into dereliction and was vandalised by would-be looters. But they found little, not realising that the bodies were "six feet under".
Occasionally descendants of those buried here visit and are happy to discover their ancestors.
Charles, Rita and Senarath say they feel fulfilled by looking after the cemetery - three Sri Lankans tending graves of those whose epitaphs show they came from Inverness and Guernsey, Liverpool and Fenchurch Street.