Eight die in attack on Karachi police officer's home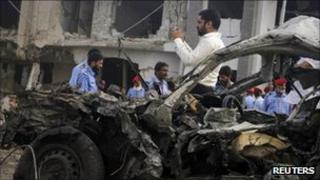 A bomb targeting the home of a senior police officer in Karachi has killed at least eight people, officials say.
A car packed with explosives blew up destroying a large part of the home of Chaudhry Aslam Khan, the chief of the crime investigation department.
He and his family were unhurt. Most of the dead were police guards posted outside the house.
He blamed the Taliban for the attack but there have been two claims of responsibility from militant groups.
One came from the Pakistani Taliban, who said the attack was to avenge those militants they say were killed by Mr Khan and his forces.
Earlier, a little-known group, Al-Mukhtar - which admitted to having some links with the Taliban - said it had carried out the attack.
Counter-terror chief
Mr Khan said he had received threatening letters from militant groups including the Pakistani Taliban.
"They are cowards. They call themselves Muslims but they are unbelievers. This will make me even more determined to carry on operations against them," he said.
"Such things do not scare me. I'm staying right here. They can try and come for me whenever they want and I'll be ready."
Correspondents say that Mr Khan is a well-known figure in Karachi, responsible for counter-terror operations in the city.
Since 2008, his unit has been involved in the arrests of dozens of militants - including would-be suicide bombers - planning attacks in Pakistan and across the border in Afghanistan.
Some witnesses said the driver of the car rammed it into the gate of the house, causing the explosion. But the police said it was a suicide attack. Karachi's police chief, Saud Mirza, said that the attackers used 300kg of explosives.
A woman and her son who were passing their house on their way to school were among those killed.
Television pictures showed twisted metal of a number of vehicles littering the street outside and a thick cloud of smoke hanging high over the blast site.
Karachi's police force has been a target of the militants in the past.
In November 2010, a car bomb attack on the main CID offices in Karachi had killed at least 30 people.