Sri Lanka suspends road work near Sinharaja forest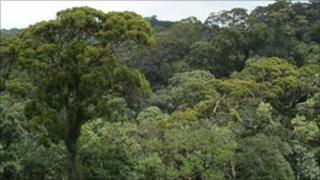 The authorities in Sri Lanka say they have suspended work on a controversial road project, days after the UN wrote to the government.
The letter from Unesco asked for details of the impact the work would have on the nearby Sinharaja forest.
The forest, in southern Sri Lanka, is a World Heritage Site and home to species such as the badger mongoose and purple-faced leaf monkey.
Officials said they would conduct an on-the-ground report.
It is unclear how long the suspension will last.
And there seems to be uncertainty about how close the road would go to the area protected by Unesco.
Campaigners say it will result in widespread forest clearance close by, going against international recommendations that the reserve be expanded.
An environmental lawyer told the BBC that the government failed to make an environmental impact assessment on the road project - required because it would pass within 100m of the protected area.
The Unesco letter asked the government for a full report.
The environment ministry has now ordered a halt to its construction for the moment, pending an inspection.
Central Environment Authority Chairman Charitha Herath told the BBC that an on-the-ground report would be ready within a few days.
He contradicted the campaigners, however, saying it was a road improvement scheme rather than a road building one.