Pakistan floods: Two million hit by disease in Sindh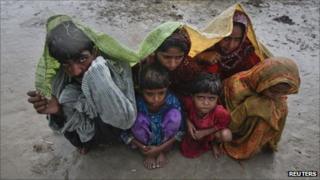 More than two million people in Pakistan are suffering from flood-related diseases following torrential rain in Sindh province, officials say.
More than 7,000 people are being treated for snake bites.
Aid agencies estimate that six million people have been affected by the floods and that cases of malaria and diarrhoea are increasing.
The UN's refugee agency says that the flooding is so bad that some areas will remain submerged for six months.
However the BBC's M Ilyas Khan in Pakistan says that the situation in the southern port city of Karachi is showing some sign of limping back to normal after three days of heavy downpours.
Our correspondent says that some schools whose premises were not flooded have managed to reopen after being closed for two days.
'Very serious'
But flooding elsewhere in the southern province of Sindh continues to give cause for concern.
The UN children's agency spokesman in Pakistan, Dan Rohrman, said it was a serious situation "in particular for children who are always the most vulnerable in emergency situations".
"This is another huge flood that has hit Pakistan in less than a year so it's really a double disaster. We have assessed 16 out of 22 districts and roughly 1.8 million people have left their homes and 750,000 are living in temporary sites."
Mr Rohrman said that aid agencies had started to prepare for floods this year because of what happened in 2010, but the scale of the recent flooding was immense - with three times the normal amount of rain.
"We are using the resources that we have available at hand but it's not nearly enough for what we need," he said.
National Disaster Management Authority (NDMA) spokesman Arshad Bhatti said that if the international community does not provide immediate assistance, even more people are likely to contract various kinds of diseases.
He said that he was especially concerned over the plight of 500,000 children below the age of five.
Mr Bhatti said numerous organisations including the NDMA and the Sindh provincial government were involved in relief and rehabilitation activities.
He said more than 4.5 million acres of land had been affected by the rain and that nearly 60,000 cattle had either died or disappeared.
In addition more than 400,000 homes have been completely destroyed, he said, with 50,000 tents handed out to flood-affected people.