Indian 'cash for votes' MP Amar Singh freed on bail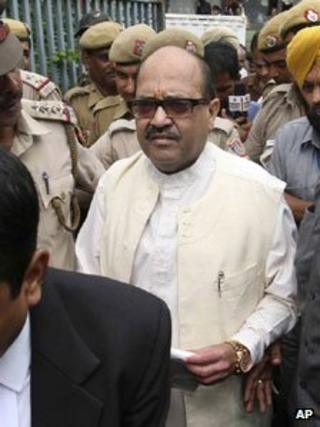 A court in India has granted bail to MP Amar Singh, arrested in connection with an alleged cash-for-votes scandal, on health grounds.
Mr Singh is charged with offering cash to other MPs to abstain from taking part in a crucial 2008 confidence vote. He denies the bribery charge.
Days after his arrest, he complained of ill health and was moved to a hospital. He has been given bail until Monday.
Mr Singh belonged to the Socialist Party, a Congress government ally.
Two former opposition MPs were also arrested in connection with the scandal.
Faggan Singh Kulaste and Mahavir Bhagora were lawmakers with the main opposition Bharatiya Janata Party (BJP) at the time of the vote. They are accused of accepting the bribe money. Both men have denied the charge.
'Kidney transplant'
The government survived the July 2008 vote. If it had been lost, India would have faced early elections.
But two days of parliamentary debate on the controversial civilian nuclear accord with the US ended in uproar with allegations of vote buying. India's media was awash with reports of alleged defections and desertions among MPs ahead of the vote.
BJP members waved wads of money in the air at the time of the debate, alleging that they had been offered bribes to abstain.
Alleged bribe taking was secretly recorded by a news channel and the tapes handed over to parliament Speaker Somnath Chatterjee for investigation.
In July this year, Supreme Court criticised the Delhi police for carrying out a "shoddy probe" into the scandal.
Amar Singh, arrested on 6 September, is a member of the Rajya Sabha, the upper house of parliament.
He has told the court he is ill and very weak following a kidney transplant last year for which he requires intensive medical care.